Estimated read time: 2-3 minutes
This archived news story is available only for your personal, non-commercial use. Information in the story may be outdated or superseded by additional information. Reading or replaying the story in its archived form does not constitute a republication of the story.
TAYLORSVILLE -- Authorities say they may have found a vehicle that was involved in a hit-and-run accident that killed a 1-year-old Taylorsville girl.
Taylorsville police Detective Shannon Bennett says the vehicle is being investigated to determine whether it was involved. Bennett says someone called police to say the van had been abandoned on the west side of Salt Lake City neat 1000 West and 200 South.
Witnesses to the accident say the driver of the van -- a Latina woman in her early 20s -- is known for selling corn, tamales and shaved ice in the neighborhood, though no one knows her name.
Three days after a toddler was hit and killed by a minivan while playing outside her home, her family sits by a memorial waiting for answers and pleading with the hit-and-run driver to come forward.
---
Why did she run? She's supposed to stay and scream and call the police or something.
–Maria Meza
---
The roadside memorial near 800 West and 4600 South marks the spot where 14-month-old Vicsayra Garcia was hit and killed Friday evening. Monday morning, her family stood there for the third day in a row, wondering why the driver hasn't come forward yet.
The girl's grandmother, Maria Meza, says, "(I'm) very angry because she (the driver) doesn't have a heart, especially if she knows it was an accident. Why did she run? She's supposed to stay and scream and call the police or something."
Meza says people have been coming by for days, placing flowers and candles on the spot where her granddaughter was killed.
On Friday, Vicsayra wandered away from a family gathering and was standing on the curb in front of the home when she was struck by a white minivan making a U-turn.
The driver had sold some items to Vicsayra's mother earlier in the evening.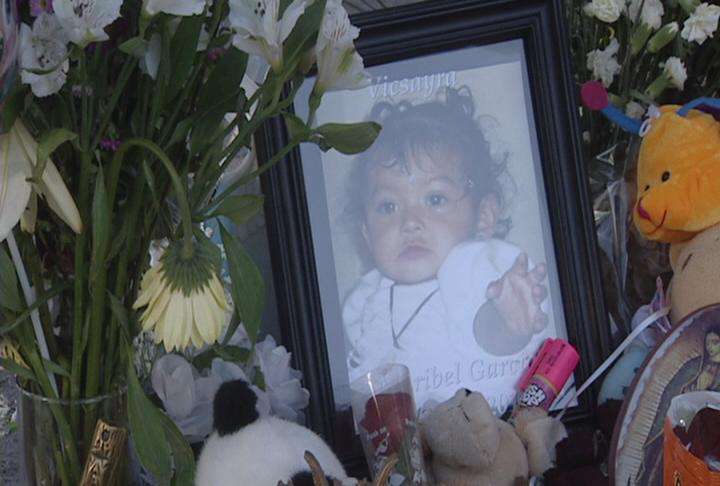 The family says the driver has several children of her own, and two of them were with her when she struck Vicsayra. Now the family doesn't understand why the woman didn't stop.
Vicsayra's aunt, Mercedes Garcia, says, "We're sad, angry. Who did it? I mean, why did she just not tell us?"
Maria Meza added, "She's a mother and she has to face it. She has to pay for whatever she did."
Police say they're still not sure if the driver of the van knew she hit the child before driving off. The family thinks that she did. Meza says someone saw the woman get out of the van and touch the baby, then drive away.
Police have been looking for a late '90s, white minivan, possibly a Dodge Caravan or Plymouth passenger van with rust on the panels and black molding on the doors.
------
Story compiled with information from Shara Park , Mary Richards and The Associated Press.
×
Related stories