Estimated read time: 2-3 minutes
This archived news story is available only for your personal, non-commercial use. Information in the story may be outdated or superseded by additional information. Reading or replaying the story in its archived form does not constitute a republication of the story.
Ed Yeates ReportingThe Federal agency that originally raised the red flag on possible mercury contamination in the Great Salt Lake was out on the waters again today collecting more samples.
Geochemists with the United States Geological Survey first sampled these waters about two years ago. What did they find?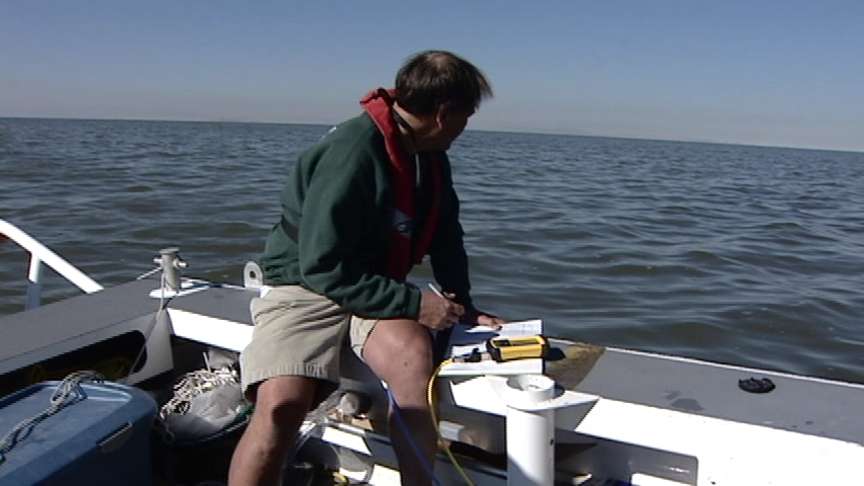 Dr. David Naftz, USGS Research Hydrologist: "Some of the highest methol mercury concentrations that we've seen in our lab that accepts samples from all over the US."
Though the Great Salt Lake is still considered the wonder of the world, it is a dead sea. There's nothing you eat out of this lake. So why worry about mercury levels?
Dr. David Naftz: "Some of the geo-chemical processes we have going on in this lake actually transform the mercury from a relatively non-toxic form into this metholated form, which is extremely toxic at very low concentrations."
For one particular sampling, David Naftz and Terry Kenney put on special gear to protect not themselves, but the sample from any human contamination. That's because the concentrations are measured at sub parts per billion, even parts per trillion.
In addition to the USGS water samples, the State Division of Wildlife Resources has found high mercury levels in two duck species, enough to warn hunters NOT to eat Shovelers or Goldeneyes ducks. Mercury levels in some Grebes, which feed on the lake's brine shrimp for three months, had increased three fold.
Dr. David Naftz: "Here we have the Great Salt Lake. It has an extremely large surface area but a small amount of water volume in it, and so it's like a huge collector, if you will, of this potential atmospheric deposition of mercury."
Some of it could be coming from gold mining ore roasters in Nevada a few miles upwind of the Great Salt Lake, or from a combination of sources. Naftz says there's no need for panic or undue alarm. Reaction at this point should be prudent. More studies are needed, he says, to find out what's really going on.
×
Related links
Most recent Utah stories