Estimated read time: 2-3 minutes
This archived news story is available only for your personal, non-commercial use. Information in the story may be outdated or superseded by additional information. Reading or replaying the story in its archived form does not constitute a republication of the story.
SALT LAKE CITY -- A Salt Lake woman, paralyzed in a plane crash 14 years ago, now has a special someone helping her out in a very novel way. We say novel because this someone is a dog named Tadaki.
---
Tadaki anticipates things that Kelly sometimes needs before Kelly knows that she needs them.
–Amy Kernan, Wasatch Champions
---
KSL News first met Kelly 14 years ago, when she was Kelly Crompton. A plane crash killed her husband and left her seriously injured.
A crushed shoulder, ribs and broken neck bone slowly repaired, but a broken back left her a paraplegic.
Kelly has now remarried and gone on with her life as Kelly Bussio. Another companion has also joined the family.
"He's with me more than anybody. He's with me more than my husband or my kids or my friends and co-workers," Kelly said. "He just makes me smile every day."
Raised and trained by Canine Companions and Wasatch Champions, Tadaki is unique to say the least.
"These animals read us better than many humans," explained Amy Kernan, with Wasatch Champions. "Tadaki anticipates things that Kelly sometimes needs before Kelly knows that she needs them."
What is... Wasatch Champions?

Wasatch Champions is the Utah Chapter for Canine Companions for Independence, a non-profit organization that enhances the lives of people with disabilities by providing, free of charge, highly trained assistance dogs and ongoing support to ensure quality partnerships.
"He actually taught himself to take the garbage out," Kelly said. He did so simply by watching her collect and cinch up garbage bags.
"The next day I cinched up the garbage. He came over and was telling me something, so I said 'take it,' and he trotted through the house, went out and dropped it in front of the garbage can," Kelly said.
Tadaki turns light switches on and off and drags laundry baskets to the wash room. He gets things out of the refrigerator and fetches heavier, non-breakable grocery bags from the car.
How about mopping up spills? Tadaki does that too.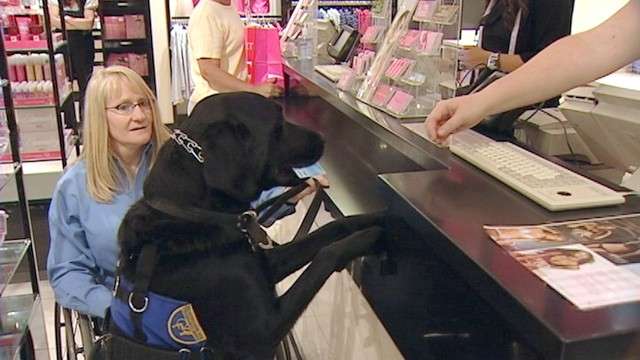 The dog listens and acts on cue, pulling Kelly's wheelchair when needed.
At the mall, Tadaki goes shopping with her and moves at a pretty good clip.
"He can pull me through airports like crazy. People stop and clap for him as we go by," Kelly said.
In stores, like Victoria's Secret, Tadaki presents a credit card to the clerk, waits for the sale, picks up the card, then continues pulling his human companion in her wheelchair, sack in mouth.
The limits of what this dog can do may be limited only by our human imagination. He's traveled with Kelly from west to east coasts and on a river trip to the Grand Canyon.
If Tadaki has a motto, perhaps it's "Bring it on!"
"He makes me cry a lot because I am so grateful," Kelly said.
Tadaki also helps Kelly at her job. He delivers papers and documents to other departments and even knows other employees by name.
E-mail: eyeates@ksl.com
×
Photos
Related links
Related stories
Most recent Utah stories