Estimated read time: 3-4 minutes
This archived news story is available only for your personal, non-commercial use. Information in the story may be outdated or superseded by additional information. Reading or replaying the story in its archived form does not constitute a republication of the story.
SALT LAKE CITY -- Claiming more sensitive land and archaeological sites are being encroached on in Utah, the Southern Utah Wilderness Alliance (SUWA) released a study Thursday on the top 10 areas it says are threatened the most by oil and gas development and by off-highway vehicle use.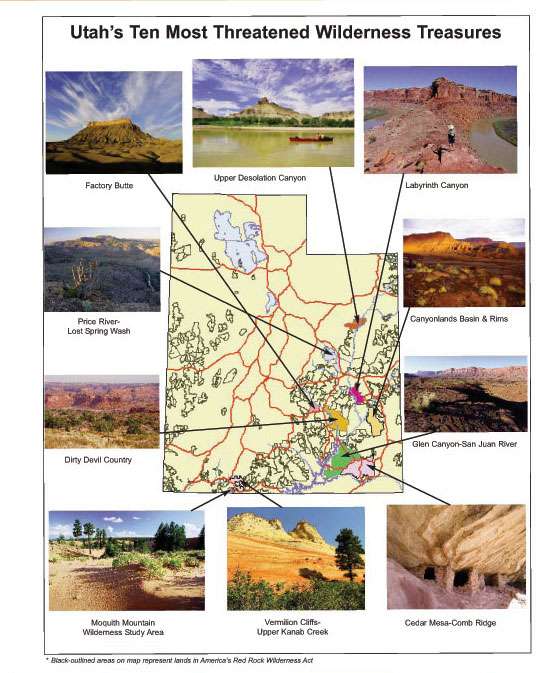 The group held a press conference in Salt Lake City Thursday outlining its study. The 10 most-threatened areas SUWA has identified include canyons, washes, basins and rivers. They're scattered throughout southern and eastern Utah, all according to SUWA qualify for wilderness protection, but have not yet been designated.
The alliance wants the federal Bureau of Land Management (BLM) to better enforce laws and reverse what it calls the "no wilderness" policy agreed to by the Bush and Leavitt administrations.
"The BLM is not the bureau of vehicle management, it's the Bureau of Land Management," activist and photographer Stephen Trimble said. "We need a grown up. We need the BLM to step up and manage these lands against this threat that is growing with increased population and increased use of ORVs (off-road vehicles)."
Trimble said BLM law enforcement is also underfunded, leaving a handful of officers to patrol millions of acres of land.
Some claim the BLM has not adequately surveyed areas for their archaeological significance before designating off-road trails.
10 most threatened wilderness treasures
Glen Canyon-San Juan River
Cedar Mesa-Comb Ridge
Canyonlands Basin and Rims
Labyrinth Canyon
Upper Desolation Canyon
Dirty Devil Country
Moquith Mountain WSA
Factory Butte
Vermilion Cliffs-Upper Kanab Creek
Price River-Lost Spring Wash
"In the case of ORV travel plans, they never went and looked. They said, 'OK, these look like good routes. We're going to designate them,'" said Jerry Spangler, executive director of the Colorado Plateau Archaeological Alliance.
The problem is, Spangler added, they simply don't make 5,000-year-old archaeological sites any more.
"Once they're gone, they're gone forever," he said, "and we need to know whether these activities are impacting them or not."
For decades, Southern Utah has been a hot spot in the fight between off-road enthusiasts, developers and environmentalists, but SUWA believes there's room for compromise. In fact, group spokeswoman Heidi McIntosh said under the proposals they support, 85 percent of the existing trails would remain open.
Melodie Lloyd, a spokeswoman for the BLM in Washington D.C., said she had not seen SUWA's study but assured her agency is continually looking for ways to improve stewardship over the lands.
As for law enforcement, Lloyd said the BLM is hiring additional officers in areas where appropriate and working in partnership with other agencies.
Meanwhile, those who advocate for more access to Utah's land say off-road vehicles are not the threat they're made out to be.
In a statement sent to KSL TV, Mike Swenson, the executive director of Utah Shared Access Alliance, said: "The solution isn't to close places or routes on public land. Federal and state agencies should provide clear and consistent rules and public education."
The statement continues: "The real threat we should be concerned with is if Congress were to actually act on SUWA's demands."
CLICK HERE to read more from Mike Swenson.
-----
Story compiled with contributions from Marc Giauque and Sarah Dallof.
×
Related links
Related stories