Estimated read time: 3-4 minutes
This archived news story is available only for your personal, non-commercial use. Information in the story may be outdated or superseded by additional information. Reading or replaying the story in its archived form does not constitute a republication of the story.
UPDATE:Thousands of people showed up for opening night of Salt Lake City's Twilight Concert Series.
They crowded into Pioneer Park for live music and the many food and craft booths. At one point a line stretched nearly two blocks, with people waiting to get in the main gate.
"I didn't expect this big of a crowd," concert-goer Peggy Asay said. "There's a lot more people than I thought. I knew they were pretty big, but this is pretty exciting."
The Salt Lake Tribune reports an estimated 40,000 people showed up, and not everyone was allowed in the gates. That prompted some fans to knock over fences to get in while other pushed to get out. The Tribune witnessed one guard helping women get over the fence to get in and accepting some cash in return for the help.
Thursday's performance was from the band Modest Mouse.
---
PREVIOUS STORY:
SALT LAKE CITY -- The opening night of Salt Lake's Twilight Concert Series is underway.
Every Thursday at 5 p.m., from now until the end of August, crowds can enjoy music, food and crafts for sale like in years past, but this year it's at a different spot. The concerts are now at Pioneer Park.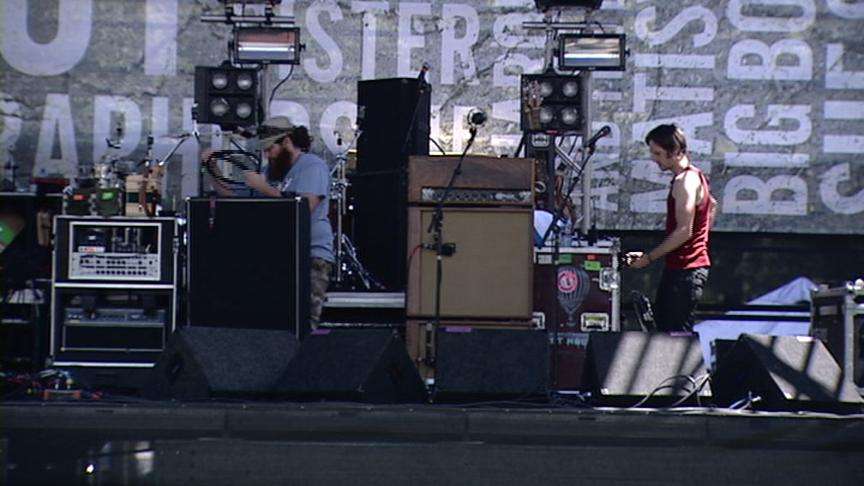 All day Thursday, crews worked to put up the final fencing, while food booths got ready and the band opening the Twilight Concert Series, Modest Mouse, had final rehearsals.
"It's a much larger production; if you can see, we've got a giant stage behind us," says series director Casey Jarman.
The concert series announced its move to Pioneer Park from the Gallivan Center earlier this year. That's partially because the Gallivan Center is under major construction this summer, and partially because it needed more room.
"That space was getting crowded, so we needed to find another location that would offer us just a little bit of room to stretch out," Jarman says.
There's nearly three times more room at Pioneer Park.
"We're a shade under 300,000 square feet, so we're about 105,000 square feet at Gallivan," Jarman says.
2010 Twilight Concert Series
350 West 300 South, SLC
Thursday evenings
July 8 through Aug. 26
Gates open at 5 p.m.
Concerts begin at 7 p.m.
Free
For more information, Click here
At the Gallivan Center, the event was getting so popular it seemed to be standing room only, and some fans could never get a clear view of the stage. Now you can't miss the stage, and Jarman says there's more parking too.
But with all these extras comes a bigger price tag. The series will be three to four times more expensive this year -- all of which is covered by sponsors and the Salt Lake City Arts Council so the public can enjoy the music for free.
"Everybody's really on board with this location for the concert series, I think because they want something real positive to happen at Pioneer Park," Jarman says.
Food will be available for purchase at the park, and local artists will also be selling their pottery, crafts and jewelry.
This new location is only for this summer. Organizers don't know yet if it will stay in the park or go back to the Gallivan Center next year.
E-mail: abutterfield@ksl.com
×
Photos
Related links
Most recent Utah stories