Estimated read time: 2-3 minutes
This archived news story is available only for your personal, non-commercial use. Information in the story may be outdated or superseded by additional information. Reading or replaying the story in its archived form does not constitute a republication of the story.
John Hollenhorst reporting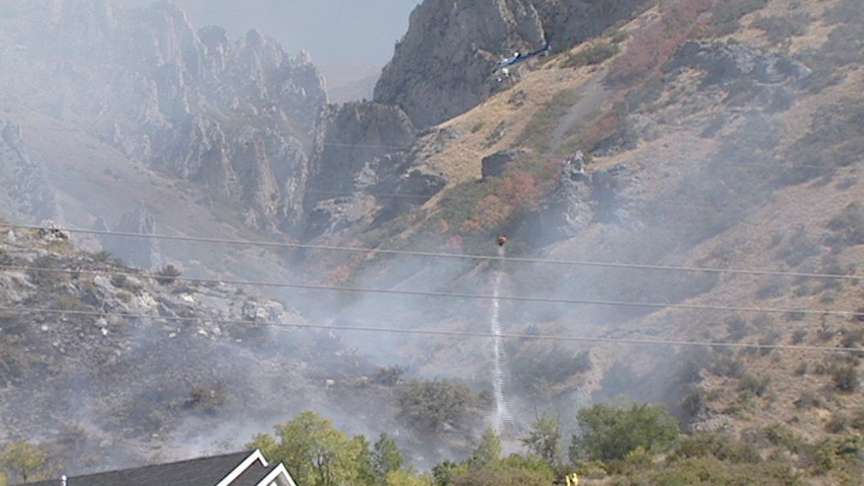 Some frightening moments and a very close call for residents of Springville. A wildfire sparked by a little boy erupted close to several homes and started moving quickly.
The fire started about noon. Residents were napping, having lunch, or, in the case of a young boy, playing in the yard.
This was not a disaster. But it easily could have been. Wind is usually something you don't want when wildfires hit. But in this case, it turned things around.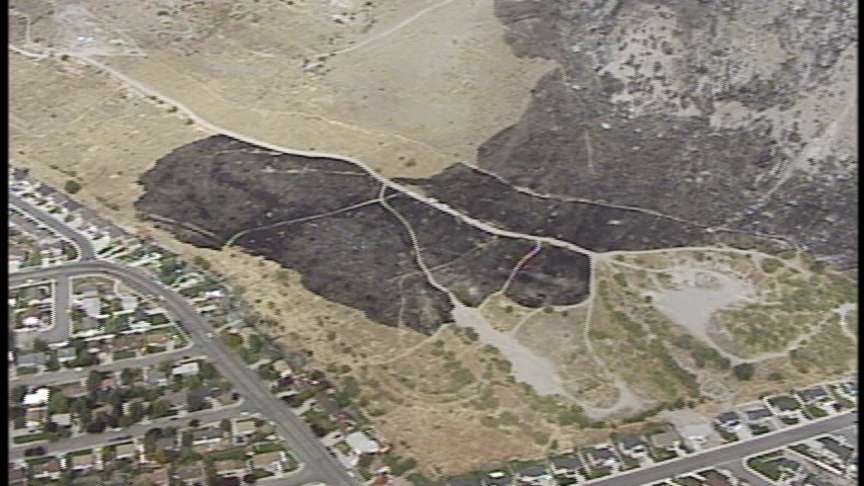 In the east side Springville neighborhood, it's not a normal thing to see smoky hillsides and helicopters dropping tons of water. The sudden Sunday excitement caught many residents off guard.
Sheyla Buckley/ Springville Resident: "My kids came out to jump on our trampoline, and came running right back in yelling, 'There's smoke! There's smoke!'"
Juliet Eames/ Springville Resident: "I looked outside and all you could see was smoke right here. But you couldn't see where the fire was. Then I could see big pieces of ash floating by the window, so you knew it was pretty close."
The view of the black zone from Chopper Five shows why the fire shook up the neighborhood. It was way too close for comfort, apparently ignited by a boy about eight years old.
Lt. Dave Caron/ Springville Police Dept.: "He found a lighter and he was playing with the lighter, setting toilet paper on fire out behind his house. That's how it got started."
Luck was on the homeowners' side. Within seconds wind turned the blaze. It ran up the steep mountain, away from homes as residents scrambled with shovels.
Mark Trunnell/ Springville resident: "I took my son with me and went up and dug some fire lines behind some of the homes to make sure it didn't reach the homes."
Lt. Dave Caron: "Doesn't look nearly as steep as it really is. So hiking up that mountain and trying to fight a fire is really difficult."
Meanwhile, others scrambled to evacuate. Juliet Eames: "About 30 or 40 neighbors started coming up here. They just started going through your filing cabinets, and pulling out all your files and your hard drive, whatever you needed, and chucking it in your car for you."
In the end, it wasn't necessary. The blaze charged across 100 or so acres. But it rapidly died down, after a memorable Sunday afternoon.
Juliet Eames: "It makes you think twice about living on this mountain, that's for sure. Every day you wake up and think it's so beautiful. Today it wasn't so beautiful."
Firefighters left the mountain late this evening for safety reasons. Residents may still see a bit of a glow up there because the fire is not out. But it's fully contained with no homes threatened.
×
Most recent Utah stories