Estimated read time: 2-3 minutes
This archived news story is available only for your personal, non-commercial use. Information in the story may be outdated or superseded by additional information. Reading or replaying the story in its archived form does not constitute a republication of the story.
Coco Warner reporting"Your sin is going to take you to hell."
Divisive words and visual protests. If General Conference is a fall tradition in Salt Lake City, so are the protestors that come with it.
But this year, members of the Church of Jesus Christ of Latter-day Saints found a new way to balance the message.
With the use of song, it appears the two sides learned to agree to disagree, in a relatively peaceful manner.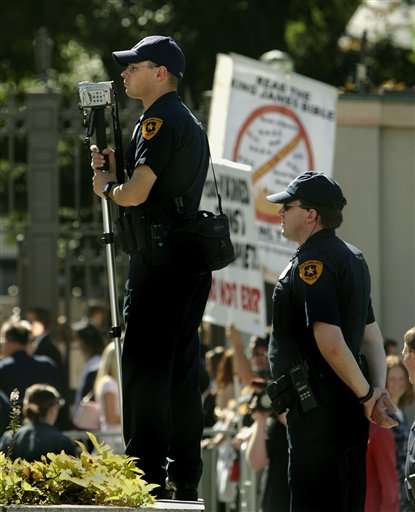 Considering that religion can be a very volatile topic, today's protest went fairly smoothly. There were signs, scolding, even singing, but it looks as though everyone followed the rules.
There was a lot of commotion outside Temple Square-- typical for General Conference weekend.
Some of the street preachers have been coming for years.
"Jesus plus nothing equals salvation folks-- the Mormon Church don't have it."
But there was also a new element amidst the sign waving and screaming-- singing.
"He lives and while he lives I'll sing..."
Members of the University 6th Stake say they believe in the power of music.
Beckie Kimber/University Sixth Stake: "Our goal is just to maintain the spirit of the lord these people are feeling as they leave conference and to help maintain the reverence."
Other groups also took advantage of the large crowds.
Still, by most accounts, it was a fairly peaceful day.
Lonnie Pursifull/Street preacher: "Actually, we've had some pretty good reactions, some pretty good conversations."
Robert/Street preacher: "Not all street preachers are the same-- but they respect certain ones who abide by the laws-- we abide by the laws-- we stand behind the lines."
Capt. Jack Rickards, Salt Lake City Police Dept.: "Everyone's getting along so to speak-- the officers really haven't had any problems with the protestors whatsoever."
As well as maintaining the peace, the Salt Lake City police department also wants conference goers to obey all traffic laws and watch for pedestrians."
Captain Jack Rickards/Salt Lake City Police: "Arrive early, that's very important and then just please obey the traffic laws particularly the pedestrian laws-- we do have additional crosswalks set up for the pedestrians, just stay within these."
As a reminder for drivers and Conference goers tomorrow, North Temple will be closed from West Temple to Main Street during Conference times. There is also limited access on West Temple, Main Street and 2nd North.
×
Most recent Utah stories