Estimated read time: 2-3 minutes
This archived news story is available only for your personal, non-commercial use. Information in the story may be outdated or superseded by additional information. Reading or replaying the story in its archived form does not constitute a republication of the story.
Carole Mikita reportingAs the 175th Semi-Annual General Conference of The Church of Jesus Christ gets underway tomorrow, church leaders will, no doubt, talk of the faith's founder, Joseph Smith.
Latter-day Saints are celebrating the 200th anniversary of his birth with new books, plays, art exhibits and musical scores.
Born in Sharon, Vermont in 1805, Joseph Smith rose during his short life to prominence as a church founder, political and military leader. Controversial to many, he was murdered in 1844 in Carthage, Illinois.
Through the years, historians have examined his contributions, religious and otherwise.
Richard Bushman, Ph.D., Joseph Smith biographer: "Some people may call it genius and leave god out of the picture but genius means to do something that's beyond normal, human capacities, so it gets close to some kind of divine aid...and, I think, there are a growing number of people who see that in Joseph Smith..."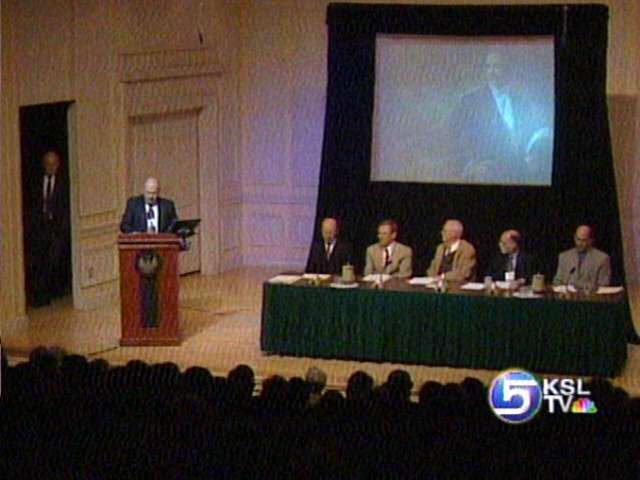 Elder Marlin K. Jensen has overseen much of the LDS Church's emphasis on Joseph Smith's life this year. He is pleased about outside scholarly recognition, like a symposium held last May in Washington, D.C.
Elder Marlin K. Jensen, Dir., LDS Church History & Archives: "Joseph as a person and his teachings as a body of knowledge, how respectable they've become in the scholarly world is something that's really been notable..."
What is also notable is a coming together of the different branches of the Smith family for reunions. That began only 33 years ago. One group traveled back East to historic sites. They are of different faiths.
Patricia Dirk-Gatacre, Joseph Smith descendent: "Our backgrounds in common... And it's a reminder from one reunion to the next of how to live, to live for each other, help each other."
Elder M. Russell Ballard is a Smith family descendent and has, through the years, worked to educate people about the true significance of Joseph Smith's life.
Elder M. Russell Ballard, Quorum of the Twelve Apostles: "We're moving into a different era, I think people are starting to think, who is this man? And what is it he did and how did he do it? And I think that's all wonderful..."
Joseph Smith said he knew it was difficult for many to believe that he had heavenly visitations, and from those came a discovery of the gold plates and a translation into the Book of Mormon. This weekend, leaders of the faith he founded will praise his accomplishments. For sometime to come, others will continue searching for an answer to the question, who was Joseph Smith?
A one hour special 'Joseph Smith: Legacy of 200 Years" airs here on KSL Channel 5 at 12 noon this Sunday, October 2nd.
×
Related links
Most recent Utah stories