Estimated read time: 3-4 minutes
This archived news story is available only for your personal, non-commercial use. Information in the story may be outdated or superseded by additional information. Reading or replaying the story in its archived form does not constitute a republication of the story.
Lori Prichard reporting
produced by Kelly JustSALT LAKE CITY -- Spending wisely is definitely on the minds of many Utahns these days.
When it comes to her budget, Ruth Lundberg said, "I stop and think about if I really need it or if I really want it."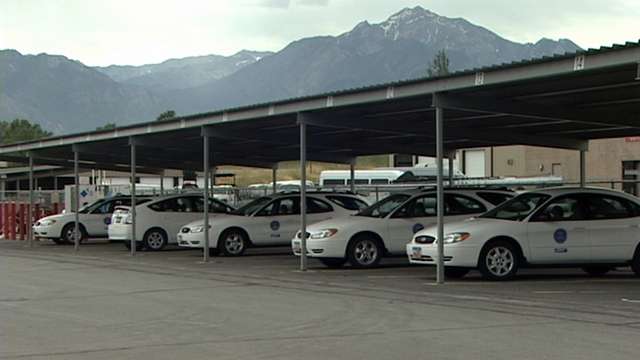 "I was going to buy a new car," Larry Graham said. "Definitely not going to do that now."
The changes for Boyd Evans include "watching what we eat -- not going out; just watching what we do."
Robert Jarrett agreed.
"I just try to make sure I can live on less," Jarrett said, "try to spend less."
The Utah Legislature is also on a state spending diet. Earlier this year, lawmakers slashed the budgets for state colleges and universities by $20 million; the Department of Human Services took as $17 million hit; state courts and prison budgets dropped $14 million. [CLICK HERE to see more of Utah's budget cuts for the 2010 fiscal year]
Certainly, cuts in spending will lead to cuts in service. Some you might notice; others you might not.
State workers themselves are definitely noticing -- this week, at the Utah Department of Commerce. According to director Francine Giani, the department's budget already has been cut 22 percent, or $5 million, over the last two years. The reductions keep coming.
"We've been asked to find better ways to do what we do," Giani said.
One way the department discovered: reducing the number of state cars it used. Twenty-four investigators have had to turn in their government-provided cars. They will no longer be allowed to take them home.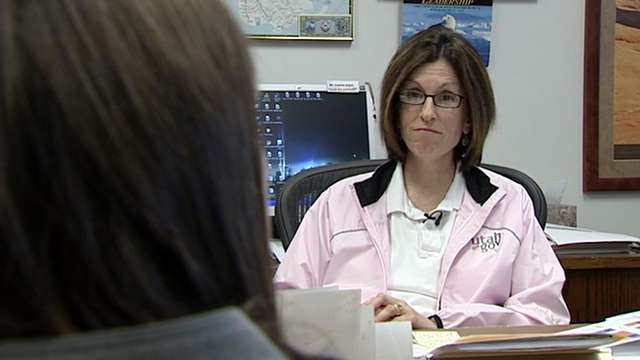 Starting Thursday, the 24 investigators will share a pool of 16 vehicles. The cars will be kept at work by the department.
"This change saves us almost $40,000, which is one office technician -- and we've lost many that we've not replaced," Giani said.
KSL News learned about the fleet cuts through a complaint. An anonymous caller alleged the 24 state investigators can't do their jobs without those cars.
That means inspections might not get done and small businesses might not get the protection they need and expect.
Responding to the memo, Giani said, "If we're gonna talk about what we did, I think we need to tell the whole story and why we did what we did."
Giani explained the letter only went out after one investigator told a citizen, who was calling the department for help, that the agency was losing much of its transportation and, therefore, would be "unable to enforce laws" that protect small businesses.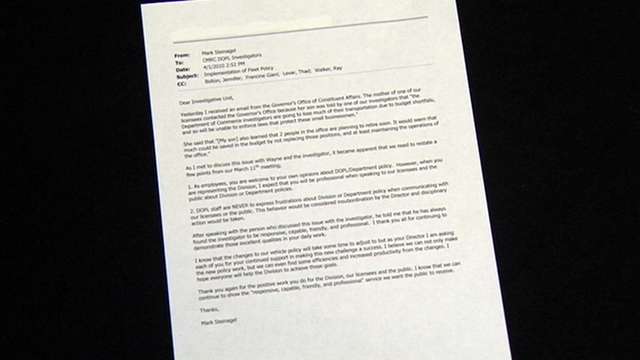 That caller contacted the governor's office to find out more, and the memo went out. Giani called it an attempt to stop the bad-mouthing of unpopular cuts.
"For our investigators to tell the general public that they won't be doing their jobs anymore. That's pretty upsetting," Giani said.
And, Giani said, it is simply not true.
The commerce department cuts were proposed after a recent audit that found this group of investigators was only using the take-home vehicles an average of 30 to 50 percent of the time. By pooling the cars, Giani expects they'll be used more efficiently.
"We believe they'll get to work at 7:00 [a.m.]and be able to go, go, go until they leave at the end of their day," she explained.
Some workers disagree strongly; two have quit over the change.
"Let's give it a try. That's all we're asking," Giani said.
The state has five years to change its mind on fleet reductions and get the cars back if productivity drops. However, the practice of take-home cars is all but over.
The state uses a strict set of guidelines to determine who gets one of these vehicles. The fleet audit that led to these cuts also determined that most, if not all, of those 24 investigators were ineligible for a vehicle and probably never should have been assigned one in the first place.
E-mail: iteam@ksl.com
×
Related links
Most recent Utah stories