Estimated read time: 2-3 minutes
This archived news story is available only for your personal, non-commercial use. Information in the story may be outdated or superseded by additional information. Reading or replaying the story in its archived form does not constitute a republication of the story.
Sam Penrod ReportingToday is international 'Walk to School' day, a day where students are encouraged to walk to school. And the principal of an elementary school in American Fork decided to show his students it's something anyone can do.
For most elementary students, walking to school is usually no more than several blocks. But for Ken Higgins, the principal at Barratt Elementary, he lives in Riverton, and it's a 19-mile trip, one way. So to make sure he wouldn't be late for school today, he had to leave his house at 2:00 this morning!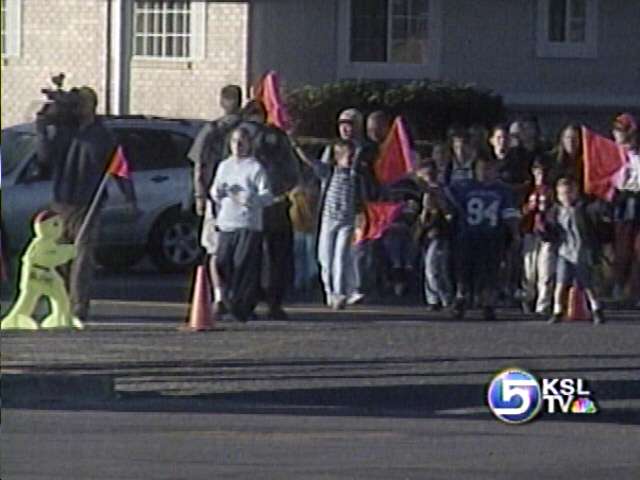 With some high fives to get them going at 2:00 a.m., Ken Higgins, and his daughter, along with fourth grade teacher Andrea Park and her daughter headed out for a 19 mile walk to school. The four decided to walk, to promote the many benefits of walking, such as exercise, it's friendly to the environment and it saves money on gas.
Dr. Ken Higgins, Principal, Barratt Elementary: "That's the real motivation, save a buck or two, .or three or four."
As the morning went on, more teachers, students and parents joined in on the walk.
Dr. Ken Higgins, Principal, Barratt Elementary: "We have 2.3 more miles."
And as they got to within a mile of the school, the crowd got even bigger.
Dr. Ken Higgins, Principal, Barratt Elementary: "Let's go! (cheers)"
Finally, just after 8:00 this morning, several minutes before the tardy bell rang, they made it! The reward for Dr. Higgins at the end of his walk was a hug from his wife.
Mrs. Higgins: "You did it, way to go."
Dr. Ken Higgins: "Right now that's as empty as that parking lot has ever been, and it looks great."
Andrea Park, Teacher: "I feel fine, but give me until about 2:00 this afternoon and I might need a nap. I'll just have a Coke and some chocolate and I'll be alright."
Dr. Higgins hopes that by walking, students will learn an important lesson.
Dr. Ken Higgins: "We can get here to school just as easy as taking a car. I hope they'll remember it's a fun day too."
Of course, our first question for Mr. Higgins, was: Are you going to walk home? He said 'no way,' however he is carpooling to get home tonight, and planning to go straight to bed!
×
Most recent Utah stories