Estimated read time: 3-4 minutes
This archived news story is available only for your personal, non-commercial use. Information in the story may be outdated or superseded by additional information. Reading or replaying the story in its archived form does not constitute a republication of the story.
SANDY -- Road construction may be good for progress, but for one Sandy coffee shop, it's bad for business. The shop is struggling to survive a major overhaul on 700 East, but the Utah Department of Transportation says it has done its best to help businesses during construction.
700 East Reconstruction
The reconstruction of 700 East includes:
Additional traffic lanes
Bicycle lanes
Shoulders
Sidewalks
Raised medians at intersections (12300, 11400, 11000, and 10600 South)
A continuous, center turn lane between intersections
Noise walls (East side of 700 East from Larkspur Drive to Carnation Drive)
Retaining walls in some locations
Improved drainage conditions
Projected completion: Summer 2011
The owners of Brew's on 7th fear the construction and gridlock at the 10600 South intersection will drive the drive-through out of business.
Tiana and Bo Bernardo bought the business a few years ago and worked hard to build up steady customers. Since construction intensified in May, they think they've lost 30 to 40 percent of their business.
"We're a little worried," says Tiana Bernardo, "but we're trying to stay here because we have a lot of loyal customers."
UDOT says it wants to help, but there's only so much it can do while reconstructing the intersection.
"If there's anything construction crews can do to help them out during these construction times, we encourage them to contact us so we can take action as soon as possible," says Adan Carrillo, UDOT public information officer.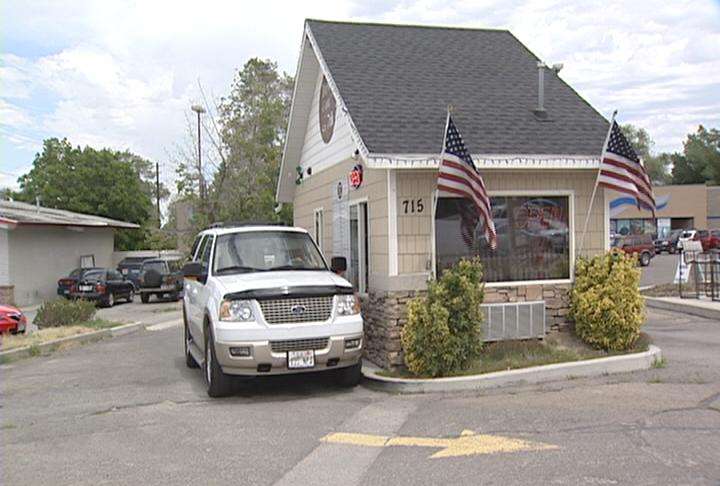 As she serves coffee from the drive-through window, Chelsey Clouse jokes with customers about the road work that severely slows traffic and business.
"We usually extend our hours in the summer, but we had to cut back on our hours," she says. "So that affects us a lot."
Before construction intensified this summer, she says she served coffee, Italian sodas and other treats to a steady stream of cars from 5:30 a.m. through rush hour.
Now it's dead while cars sit in traffic.
"What we're scared of is that a lot of our regular customers are going to find another regular place, and when construction is done they won't come here anymore," says Clouse.
UDOT is widening 700 East from Carnation Drive to 11400 South in Sandy to improve capacity and safety. At the 10600 South intersection, traffic backs up for blocks, turns are restricted and business access is difficult.
"This is how I make my living," says Tiana Bernardo.
Currently:
Traffic will remain switched to the west side of 700 East with one lane in each direction from 9900 South to 11600 South.
She says motorists are so fed up with the traffic that they're not interested in a drive-through for coffee. She and her husband wish UDOT would do more to help.
"We've contacted them a couple of times about business access signs and trying to get traffic to flow a little bit better, but they don't say there's much they can do about it," she says.
UDOT says it warned businesses about the construction project two years ago and held an open house to meet the contractor in February. Carrillo says crews are working quickly.
"Double crews actually, working longer days to expedite the construction of this project," says Carrillo. "We do want to get in, get out and stay out for a long time."
Construction should finish this fall or early winter. UDOT has worked with Sandy City to keep lines of communication open with businesses, in addition to a hotline and e-mail updates.
E-mail: jboal@ksl.com
×
Related links