Estimated read time: 3-4 minutes
This archived news story is available only for your personal, non-commercial use. Information in the story may be outdated or superseded by additional information. Reading or replaying the story in its archived form does not constitute a republication of the story.
LOS ANGELES (AP) - A favorable turn of the weather helped thousands of firefighters battling a 16,200-acre wildfire that burned early Friday in the hills and canyons along the city's northwestern edge.
Cooler temperatures, higher humidity and calmer winds had slowed the progression of the fire, which had burned nearly 26 square miles, forcing hundreds to evacuate and threatening upscale homes, officials said.
Firefighters hoped to have the blaze 35 percent contained by day's end, said Los Angeles County fire Deputy Chief Mike Bryant, the incident commander. The fire was 12 percent contained Friday morning, up from 5 percent the night before, he said.
"We're really happy with the weather today. This is a good opportunity for us," Bryant said. "It is a very, very important day for us in fighting this fire."
Fire crews planned to aggressively attack hot spots Friday instead of simply trying to keep the fire from spreading, he said. They also would try to return as many as possible of the 800-plus evacuees to their homes, he said. The fire has burned at least one home and five other structures.
But Bryant cautioned that the fire, which broke out Wednesday, is far from over.
"We're going to be here another week at the minimum. We are going to have a lot of mop-up," Bryant said.
Some 3,000 firefighters aided by airplanes and helicopters attacked flames and protected ridgetop homes amid the brushy landscape west of the San Fernando Valley. The fire moved west much of the day Thursday, menacing Ventura County communities, then sent flanks in the opposite direction as winds shifted.
"If it wasn't for the wind changing, it would have ... gone all the way to the coast," said Joey Escobar, 45, who was among a group of people who gathered to watch the flames near Highway 101. "It's like a fireplace."
As night fell Thursday, long lines of fire marched east toward the wealthy enclave of Hidden Hills and the western fringes of Los Angeles.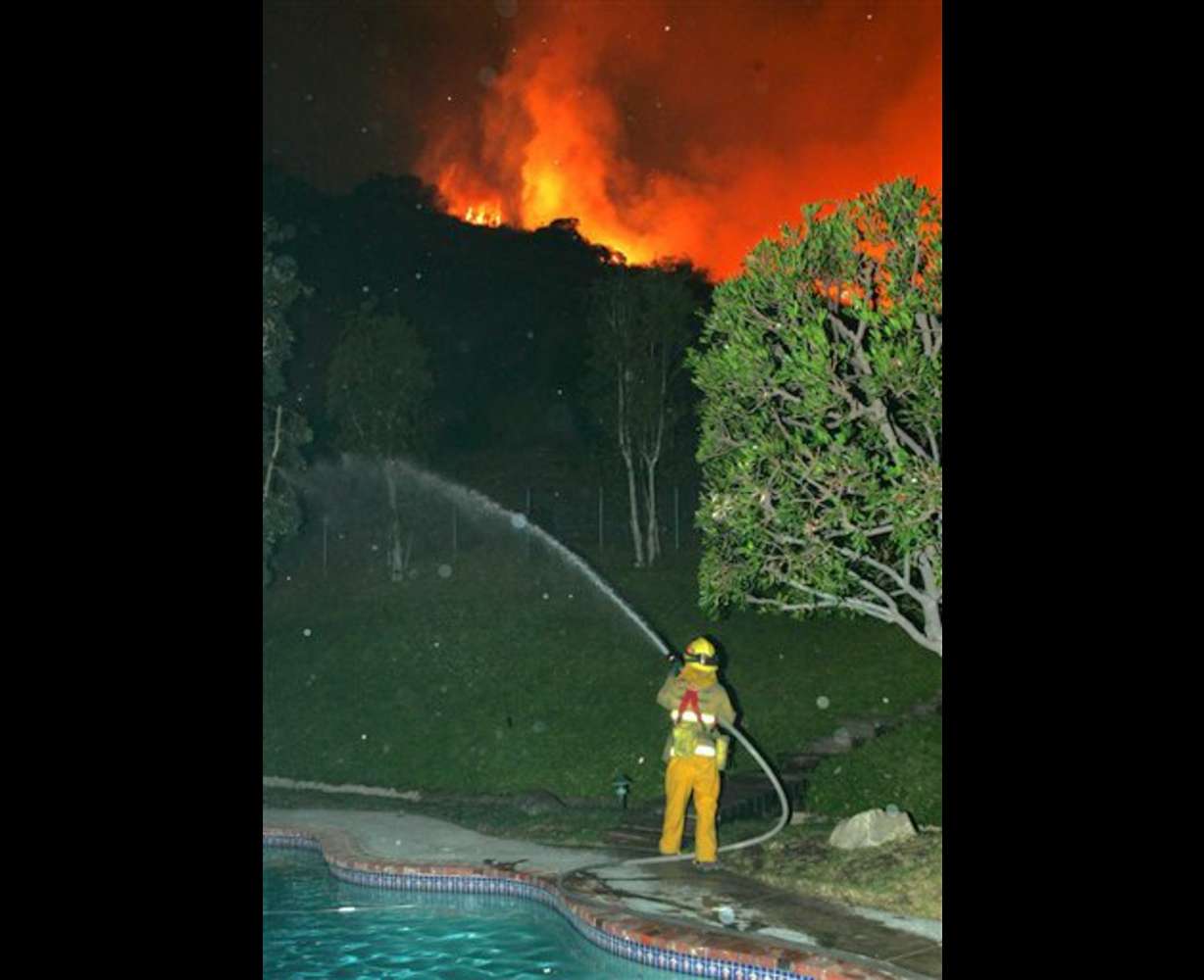 Mandatory or voluntary evacuations were in effect for homes scattered throughout the canyons and in parts of area cities along the south side of the fire and 10 miles north to Simi Valley.
Firefighters have saved some 2,000 structures from the flames, Los Angeles County Supervisor Zev Yaroslavsky said.
Fire also spread to parts of the 2,800-acre Santa Susana Field Laboratory _ where Rocketdyne has built everything from space rockets to Peacekeeper missiles over the past half century. Officials there canceled what was to be the lab's final rocket test because of the blaze; about 200 employees were evacuated.
Several abandoned and inactive structures at the site were destroyed, said Dan Beck, a spokesman for Boeing Co., which is doing environmental cleanup at the site.
About 600 people registered with the Red Cross on Thursday but it was not known how many would actually spend the night at the five shelters opened in Los Angeles and Ventura counties, said spokesman Nick Samaniego.
Actor Shelley Berman of "Curb Your Enthusiasm" and his Bell Canyon neighbors evacuated, taking a few items from the home he has lived in since 1984.
"We were sitting watching television, had finished a nice dinner, everything was fine. ... Then suddenly, we were moving," said Berman, who went with his wife to a friend's house a few miles away in Westlake.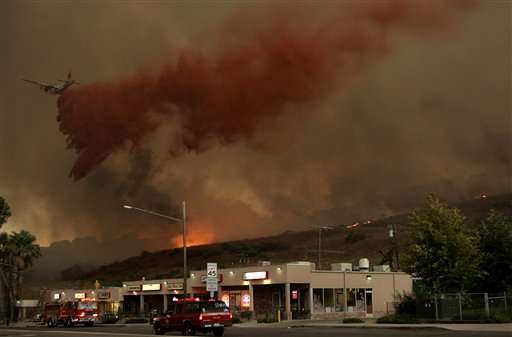 One other large wildfire in Southern California was 100 percent contained after burning 1,160 acres in San Timoteo Canyon between Redlands and Moreno Valley in Riverside County. No homes were destroyed.
The fire began at a chicken farm when welding equipment inside one of the coops accidentally sparked, fire officials said. More than 80,000 chickens _ nearly half of those at the farm _ were killed.
____
Associated Press writers Paul Chavez, Gillian Flaccus, Lynn Elber, Alicia Chang and Tim Molloy contributed to this story.
(Copyright 2005 The Associated Press. All rights reserved. This material may not be published, broadcast, rewritten or redistributed.)
×
Most recent News stories