Estimated read time: 2-3 minutes
This archived news story is available only for your personal, non-commercial use. Information in the story may be outdated or superseded by additional information. Reading or replaying the story in its archived form does not constitute a republication of the story.
Tonya Papanikolas ReportingAbout a dozen disabled rights activists protested today outside the Office of Vocational Rehabilitation. The office is run by the state and helps eligible people with disabilities find jobs, but the activists said people are falling through the cracks.
The group says paperwork is getting lost and some counselors are not taking care of their clients in a timely fashion. They want the office to get it right.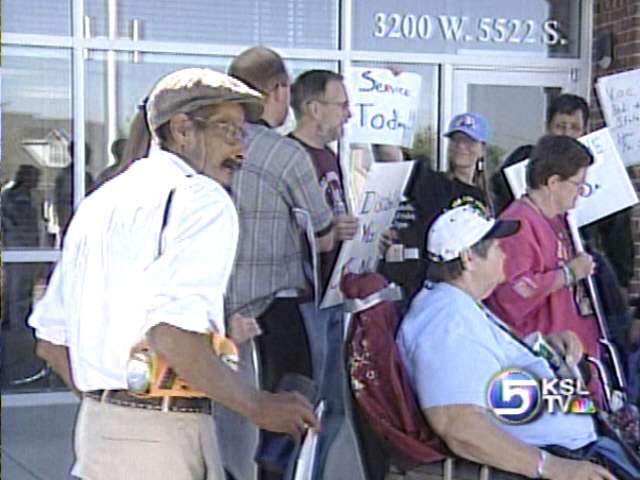 Charlie Salazar, Waiting for Dental Care: "I want to get it started now and then I want to get started work."
Charlie Salazar has been waiting since February to get approval for dental care so he can find a job, but it still hasn't happened. Today the Disabled Rights Action Committee showed up at the vocational rehab office with signs saying they wanted action. They claim Charlie isn't the only one having problems. They don't want the "little guy" to have to fight against the bureaucracy.
Lopeti Penimaani, Disabled Rights Action Committee: "My counselor lost the paper. She couldn't come up with the paperwork we'd already gone through and my case sat on her desk for a year."
Barbara Toomer, Disabled Rights Action Committee: "People are falling through the cracks all the time and it's just not right. These guys here are supposed to protect us, and they're here to employ us."
Kyle Walker, Office of Vocational Rehabilitation: "We do very well with some people. There are people who fall through the cracks because we're not perfect. And for those people, I want to make sure we don't allow that to happen. Things like today are good because we know what to change and what to make better."
Walker says the counselors are taxed because they have about 200 clients each. But he says he wants to work towards fixing the problem. The protestors requested, and were granted, a meeting for Charlie with the office in the next 30 days to find out what had been done on his case.
×
Most recent Utah stories