Estimated read time: 2-3 minutes
This archived news story is available only for your personal, non-commercial use. Information in the story may be outdated or superseded by additional information. Reading or replaying the story in its archived form does not constitute a republication of the story.
DRAPER -- Health officials are concerned over a recent spike in the number of cryptosporidium cases this summer. They say they don't want another major outbreak like the one three years ago.
Prior to the summer of 2007, many people probably never heard of cryptosporidium. But the outbreak that year forced public pools to tighten up water quality testing. It also helped educate the public.
What is Cryptosporidiosis?

Cryptosporidiosis or "Crypto" is a disease that causes severe watery diarrhea and can last for 2 weeks or more. The microscopic parasite that causes crypto lives in the intestine of the infected person.
The state confirmed nearly 2,000 crypto in 2007, with nearly 700 cases in Salt Lake County alone. So far this year, there have been 21 reported cases -- the same number to date in 2007.
Salt Lake Valley Health Department Medical Director Dr. Dagmar Vitek does not want a repeat.
Tips to prevent becoming infected with crypto
• Wash your hands with soap and water after using the toilet, changing a diaper, and before eating or preparing food.
• Do not swim if you have diarrhea and wait 2-weeks after the diarrhea has stopped before swimming.
• When swimming, do not swallow the water and avoid getting the water in your mouth.
• Take a shower with soap and water, before swimming. Make sure and clean your bottom. The small amounts of fecal material left on your bottom after using the toilet will wash off in the pool water if not washed off before getting into the pool.
• Take frequent bathroom breaks while swimming and make sure small children do the same.
• Change diapers in the bathroom, and not at the pool side.
• After changing a diaper, wash your hands and your child's bottom thoroughly with soap and water.
• If you do have a fecal accident in the pool - report it immediately.

Source: Salt Lake Valley Health Department
"I don't have a crystal ball," Vitek says. "I really don't know what this season is going to look like, but we need the public's help."
A parasite that lives in the intestine of the infected person causes cryptosporidiosis. It causes severe, watery diarrhea that can last two weeks or more.
Vitek says if an infected child has an accident in the pool, "other people swimming in the pool can swallow the water contaminated by the parasite, and they can become ill."
Teresa Gray, Salt Lake Valley Health Department's manager for water quality and hazardous waste, says a lot of prevention comes down to common sense.
"This is a very resistant parasite to chlorine," Gray says, "but it's very simple to stop. It's just: don't poop in the pool."
Other tips to avoid getting and spreading cryptosporidium include:
Shower before you get in the pool
Wash your hands after you go to the bathroom
Do not change diapers poolside
The new Cowabunga Bay Water Park in Draper uses a UV filtering system, just as most larger public pools now do.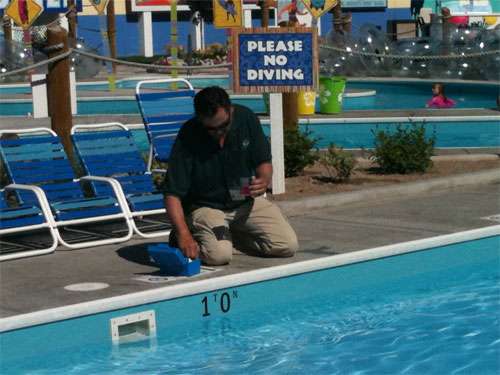 "Water quality and cleanliness is No. 1 priority for us, because one outbreak can really harm our business," says water park co-owner Shane Huish.
Two high-powered UV lamps kill microorganisms while six filters clean the water. Workers test water quality manually and electronically, but simple practices make the biggest difference.
"Make sure that you put swim diapers on your children that are under the age of 5 when they're out swimming," Gray says.
Health officials hope the new procedures and the public awareness keep the spread of crypto to a minimum. They have also started running a media campaign to remind people about cryptosporidium.
-----
Story compiled with contributions from Jed Boal and Randall Jeppesen.
×
Related links
Related stories
Most recent Utah stories