Estimated read time: 4-5 minutes
This archived news story is available only for your personal, non-commercial use. Information in the story may be outdated or superseded by additional information. Reading or replaying the story in its archived form does not constitute a republication of the story.
SALT LAKE CITY -- With 51 percent of the vote, attorney Mike Lee edged out a win over businessman Tim Bridgewater to be crowned the Republican Party's candidate for U.S. senator for Utah.
Now, Lee is setting his sights on his Democratic opponent.
"I made the decision to enter the race for U.S. Senate and it was a good one," Lee said.
Lee told supporters that 2010 will be a different election year than others, saying the people are taking their power back.
"We face a federal government that thinks it can be all things to all people [and] that it solves all the world's problems just by giving more money," he said.
---
People told me it couldn't be done. They called it impossible, then they called it improbable. They're not saying that anymore.
–Mike Lee
---
For most of the night Tuesday, the race between Lee and Bridgewater was a tight one. Both candidates knew the results would be close, and that's why they spent the entire day trying to get voters to the polls.
At election headquarters for Lee in South Jordan, supporters nervously watched giant screens as election results were coming in. Around 11 p.m., when 98 percent of precincts had reported and the numbers started reading 51 percent, supporters knew Lee had pulled it off.
"People told me it couldn't be done," Lee said. "They called it impossible, then they called it improbable. They're not saying that anymore."
Hundreds listened and cheered as Lee thanked them for a job well done.
"We know we can do better. We know that we can do more with less. We can do more with the kind of less that's already required by the laws in this country," he said.
At one point the margin between Lee and Bridgewater was just 1,100 votes, but Bridgewater never gained the edge over Lee.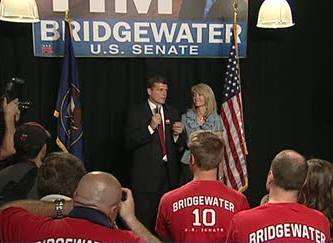 At Bridgewater's election headquarters, supporters were still hoping for a miracle as Lee slowly climbed ahead in the numbers. But when the majority of precincts had reported and Lee had secured the win with 51 percent of the votes to Bridgewater's 48 percent, Bridgewater finally conceded.
"We worked as hard as we could," he said. "We ran an honorable campaign, and I can hold my head high. I hope my kids learn to never, never, never give up because our nation deserves the efforts of all of us."
He went on to thank supporters for all their hard work and encouraged them to stay positive.
"If you have passion in life and give it all you've got, do all you can, no matter what the outcome," said Bridgewater. "When the dust settles you know that you have given your best. That's how I feel tonight."
Bridgewater congratulated Lee on his win and told his supporters he would wholeheartedly support his former rival.
---
We worked as hard as we could. We ran an honorable campaign, and I can hold my head high.
–Tim Bridgewater
---
He also said he would help Lee in his fight against Democrat Sam Granato in the November election. Lee himself is quick to point out he's not the next senator yet.
"This is not a time to celebrate in the end zone because we're not in the end zone," he said.
However, current Utah senator Orrin Hatch sounded more confident about Lee's victory.
"I look forward to helping (Lee) become the next United States Senator from Utah and will do anything I can to help him get acclimated to the Senate and ensure that he has the support to hit the ground running,' Hatch said in a statement. [CLICK HERE to read Hatch's entire statement]
Lee says he's glad to have more time to focus on the general election than he did for the Republican primary.
Meanwhile, Lee's new opponent told KSL NewsRadio Tuesday it didn't matter who advanced between Lee and Bridgewater.
"I can't tell them apart," Granato said. "Honestly, neither one is a threat to my campaign. I'm running a campaign for the citizens of the state of Utah. I'm not running against either one of them."
While Granato may face an uphill battle in a historically "red" state, he said he has received as much support from Republicans as Democrats.
Many Republicans, he said, feel disenfranchised.
"I believe it's a state that has a lot of common sense and a lot of common ground, as I think we're going to find out," Granato said.
Granato issued a statement applauding Bridgewater for his campaign. Granato also reached out to Bridgewater supporters.
To read the full statement, [CLICK HERE].
-----
Story compiled with contributions from Shara Park, Andrew Adams and Paul Nelson.
×
Related links
Related stories
Most recent Utah stories