Estimated read time: 3-4 minutes
This archived news story is available only for your personal, non-commercial use. Information in the story may be outdated or superseded by additional information. Reading or replaying the story in its archived form does not constitute a republication of the story.
SALT LAKE CITY -- Utah saw slow turnout at most polling locations Tuesday, despite some key primary races.
Turnout for June primaries is historically low, but election officials were hoping that wouldn't be the case this year.
Salt Lake County Chief Deputy Clerk Jason Yocom said anecdotal accounts revealed "low" and "slow" turnout. The county has been expecting 10 to 15 percent turnout, including early voting.
---
"The decisions are made by those who show up," said Salt Lake County Clerk Sherrie Swensen. "For democracy to work, it's important that more people participate in that."
---
At a polling station at the state Capitol, one of 326 polling stations across the state, polling managers hope things pick up before the stations close.
At the location at Bryant Intermediate School on 800 East between South Temple and 100 South, polling site manager Candy Michelle Amodt said the busiest time was around 8 a.m. when 10 people were in line. By noon, the location had seen just 61 voters.
"I would hope that people would exercise their right to vote, but we'll just see what happens," Amodt told KSL Newsradio.
"The decisions are made by those who show up," said Salt Lake County Clerk Sherrie Swensen. "For democracy to work, it's important that more people participate in that."
Related:
Primary elections traditionally don't have as big a turnout as general elections, but Swensen says changes in state law have deterred more voters than in years past.
"It used to be that voters could go in and in the privacy of their voting booth, choose which party's ballot they want to vote on," Swensen said. "When that changed, it became much lower. People, I think, do not like to declare publicly which ballot they want, and so that's changed the turnout level drastically."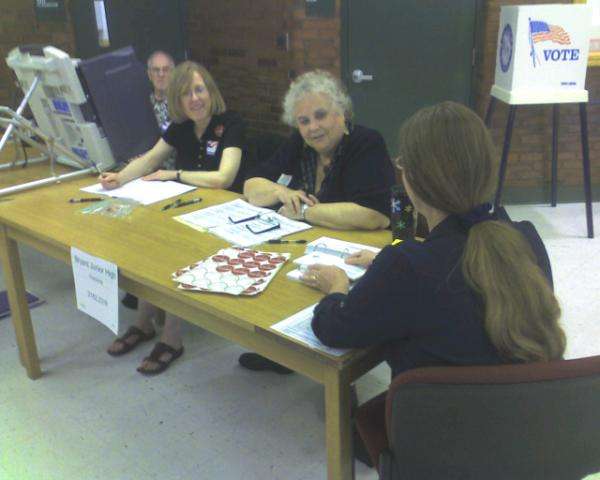 But the changes in voting procedure haven't discouraged one demographic. At the polling station at the Rio Grande Depot in Salt Lake City, they've had more residents of the Road Home Homeless Shelter than from any other neighborhood.
Carl Spitzmacher is one of those voters.
"It's my civic duty," Spitzmacher said. "It's my responsibility by constitutional rights that was given to us by the bill of rights."
Spitzmacher says he knew it was election day because he read it in the paper.
Based on expected turnout of around 10 percent, Swensen says many citizens either don't know it's primary election day or feel their vote won't matter as much in the primary.
But she says there are non-partisan items on the ballot that could have a big impact on voters in several areas.
"There are some school board races, Jordan No. 2 and No. 3, and Canyons No. 5. Non-partisan, local school board races, where more than two candidates filed," Swensen said.
Statewide, turnout wasn't any better.
Mark Thomas with the lieutenant governor's office said the expected turnout was around 10 percent, after logging a total of 3.8 percent in early voting.
At slow polling locations, election officials were left to work on word puzzles and chat.
"Mostly kids -- we all have kids grandkids," Amodt said. "We talked about Utah joining the Pac-10. Go Utes!"
The polls are open until 8 p.m. For information about your polling station, CLICK HERE.
------
Story compiled with contributions from Jennifer Stagg and Andrew Adams.
×
Related links
Related stories
Most recent Utah stories