Estimated read time: 3-4 minutes
This archived news story is available only for your personal, non-commercial use. Information in the story may be outdated or superseded by additional information. Reading or replaying the story in its archived form does not constitute a republication of the story.
CENTRAL UTAH -- Firefighters in Central Utah are watching a blaze they deliberately set last Friday to make sure there's no repeat of an incident last year that rattled dozens of cabin owners.
The prescribed burn near Scofield Reservoirbegun on Friday has nearly burned itself out, and has accomplished most of its objectives.
---
Prescribed burns are used for a variety of resource benefits including improved wildlife habitat, reduced fuel buildup from insect killed trees, and to support ecosystem diversity.
---
It's actually a resumption of a prescribed burn in 2009 that blew out of control and made a run at a subdivision.
This figures to be a very different story in 2010, which should be a relief to people forced to evacuate last year. This year's controlled burn is likely to stay under control.
The Forest Service lit the fire Friday, and it burned like crazy into Saturday.
Now there are only a few hotspots left, with 600 acres burned -- on purpose.
Manti-La Sal National Forest Fire Management Officer Brandon Hoffman said, "The fire's doing exactly what we want. We have people monitoring it 24 hours a day."
Last year a prescribed burn in the same general area got away from them after they let it smolder all summer. It roared down a mountainside above Scofield Reservoir, burning within a few hundred yards of an expensive subdivision. Some cabin owners were angry last year.
"Conditions up here are very, very dry. We haven't had a lot of rain," said displaced cabin owner Dale Green in August of 2009. "It just seems they would have probably put that thing out instead of allowing it to smolder."
Nature provided the perfect window of opportunity this year. It was cool and wet, but not too wet.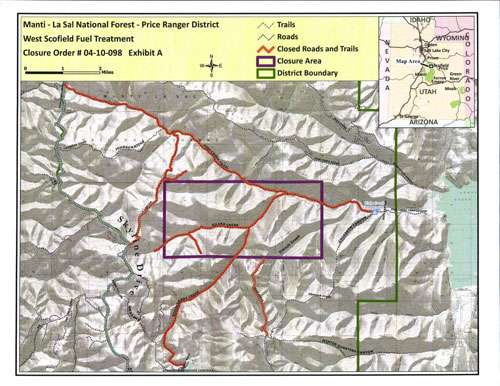 "We wanted to burn earlier last year," Hoffman said. "Mother nature wasn't cooperative with us."
This year they started earlier and managed to burn most of what they wanted in just two days. Last year's prescribed burns served as a firebreak, along with natural features.
They plan to let it smolder again, but they're ready to jump this year if it gets too dry.
"Once we meet our objectives were going to put some containment on that and watch it a lot closer," Hoffman said. "We're going to have more people monitoring it on a regular basis."
The subdivision's only year-round resident believes the prescribed burns are doing a lot to protect the area from runaway wildfires.
"Yeah, I do. I mean, if you don't reduce it, all the dead stuff in here, pretty soon you're going to get a big catastrophe fire," said Will Richards.
The state has been helping the cabin owners reduce their own risk by thinning out nearby trees in case they are ever threatened again by a natural wildfire -- or a man-made one.
Meanwhile, state officials announced Monday they're planning another prescribed burn Tuesday in Eastern Carbon County near Sunnyside.
E-mail: hollenhorst@ksl.com
×
Photos
Related links
Related stories