Estimated read time: 2-3 minutes
This archived news story is available only for your personal, non-commercial use. Information in the story may be outdated or superseded by additional information. Reading or replaying the story in its archived form does not constitute a republication of the story.
DRAPER -- Members of Ronnie Lee Gardner's family gathered outside the Utah State Prison and spoke to the media after Gardner's execution early Friday morning.
Gardner had asked his family not to witness his execution, so out of respect for him they did not. But they were at the prison Friday morning to hear the news that his life was over.
"We got to say our last goodbyes. He was pretty calm and peaceful and resolved," said Randy Gardner, Ronnie's brother. "He'd made amends and he was ready to accept whatever was next for him."
---
If anything I'm relieved that Ronnie is free.
–Randy Gardner
---
About two dozen members of Gardner's family and some close friends held a candle light vigil outside of the prison as Gardner was executed. They played Lynyrd Skynyrd's "Free Bird" in honor of him and sang along. "Free" seemed to be the common word Gardner's family used when referring to his death.
Randy Gardner said, "It's been a long time coming. It was a lot harder toward the end, of course. You never think the day is going to come, but it's come and gone now and if anything I'm relieved that Ronnie is free."
Related:
Around 12:17, when the announcement came that Gardner was dead, the group released 24 balloons decorated with messages of love. As they drifted away, family members hugged and sobbed.
They expressed relief that Gardner could move on, while at the same time, disgust with the state for the way his life ended.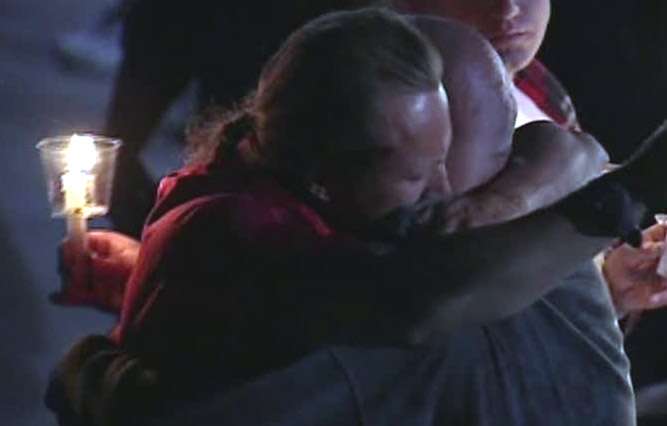 "I don't agree with the death penalty," Randy Gardner said. "I think they just committed a murder just like he did. Two wrongs don't make a right."
Gardner's granddaughter, Darian Gardner, was among those overcome with grief. She said she had gotten to know him during the past couple of years and found it difficult to say goodbye to "someone that's like your best friend."
"It's sad that he's gone, but he's free now," she said.
Gardner's granddaughter, his daughter, and his son spent time with him at the prison the day before the execution and said their last goodbye's to him then.
His family said there will be no funeral for Gardner, who they say gave his body to the state to take care of. But family members are likely to gather for a small, private memorial service. Debbie, a one-time girlfriend and a long-time friend, said Gardner asked them to play "Free Bird" at that gathering.
"He believes in reincarnation. He believes the next time he comes back that he'll get it right," she said.
Debbie said Gardner told them he wants them to stay close.
------
Story compiled with information from Shara Park and Marc Giauque.
×
Related stories