Estimated read time: 2-3 minutes
This archived news story is available only for your personal, non-commercial use. Information in the story may be outdated or superseded by additional information. Reading or replaying the story in its archived form does not constitute a republication of the story.
SALT LAKE CITY -- As soon as the University of Utah announced Thursday's press conference regarding the school's move to the Pac-10, store managers say business at the bookstore got a big boost. Most Ute fans seem to agree this is a major step for the university.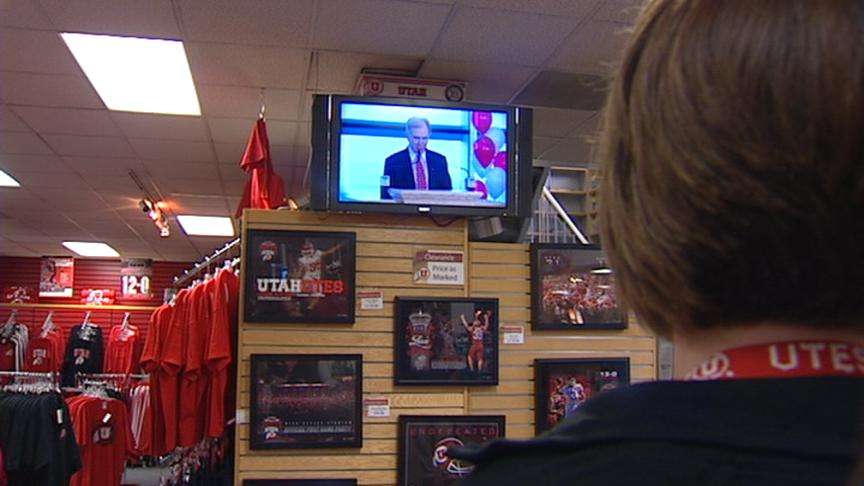 At the University Campus Bookstore, workers and shoppers gathered around the television Thursday afternoon. They wanted to enjoy that moment when university president Michael Young officially accepted the Pac-10 invitation.
"We bleed as read as you can bleed!" Ute fan Erik Bowen said.
Bowen's entire family is filled with Ute pride, and that includes six siblings.
"It's been strong, he said. "It's been a good program athletically, of course, academically; but this is a coming out. They're going to get noticed."
A collectible history of Utah Football just arrived at the bookstore Wednesday, and it quickly turned into a big seller. Going to the Pac-10 is already good for Ute merchandise.
Deseret News:
"They were energized for the 2004 Fiesta Bowl. They were energized over the 2009 Sugar Bowl, but it's just a step up to the elite conference. You're in the BCS now, and you have a real chance to compete," said Drew Goodman, general book sales manager at the University Campus Bookstore.
Alex Welton was on campus Thursday for orientation; he starts his freshman year this fall.
"It's probably going to add to the money they can spend on academics. They're going to get more recognition countrywide," Welton said.
Michael White is an incoming freshman from Oregon -- Pac-10 country.
"I'm actually pretty excited, because I grew up watching the Pac-10," White said. "So, I think there will be good opportunities with monies."
Caitie Harris was born a Ute fan. As a student working in the bookstore, she sees new energy now.
"We've already had a lot of phone calls today asking about the Pac-10, and I think it's just going to get bigger and better," Harris said.
As for the Ute ties worn by President Young and others at the podium Thursday? Those were rushed over by the staff at the bookstore just before the press conference.
E-mail: jboal@ksl.com
×
Related stories
Most recent Utah stories