Estimated read time: 2-3 minutes
This archived news story is available only for your personal, non-commercial use. Information in the story may be outdated or superseded by additional information. Reading or replaying the story in its archived form does not constitute a republication of the story.
Coco Warner ReportingThe Utah National Guard got a call to offer their support in the aftermath of Hurricane Rita. As many as 500 volunteer guard members will leave for Southwestern Louisiana in the next three days.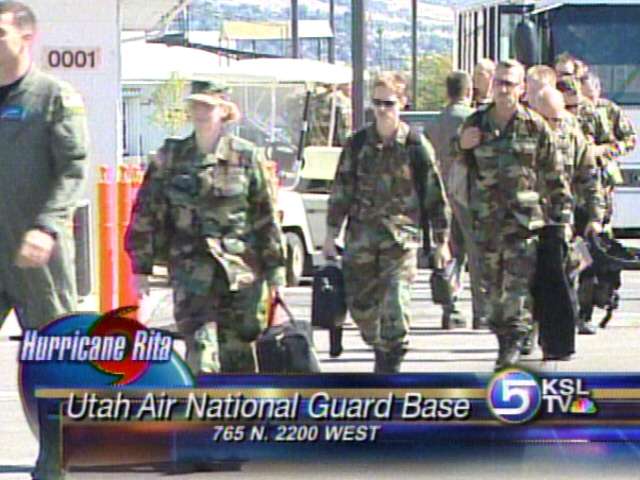 An advance party of about 60 soldiers took off around two o'clock this afternoon. Louisiana authorities put out a call for help and the Utah National Guard was asked to answer that call just yesterday afternoon. Less than 24 hours later, guard members were packing and preparing the two cargo planes that will take them to Louisiana.
They're prepared to be there as long as six weeks. One of their first priorities is to establish communication lines between hurricane victims and service organizations. Guard members say they learned a lot of lessons from Hurricane Katrina.
Maj. Andrew Archuleta, Utah National Guard: "They can stick us anywhere in the middle of nowhere and we can bring them communication."
Major Hank McIntire, Utah National Guard: "There's a lot more organization to the effort. And so once we get down there we'll be able to jump right into the mission. Help keep order, keep the peace and have a military presence to reassure the public that the national guard and federal government are there to assist."
The two C-130 planes took off smoothly today. The team will help prepare the way for another 500 volunteer guard members from Utah who are expected to depart in groups tomorrow and Tuesday.
Several of the volunteers have already spent time in the devastated Gulf Coast region and they've shared with their fellow soldiers what's in store. Utah Guard officials say there was some scrambling to get this advance team off the ground today, but that's part of the job. In fact, one soldier said the first thing he was going to do when he arrived is to let his employer know where he was. Remember, this group of volunteers had less than 24 hours to prepare to leave.
×
Most recent Utah stories