Estimated read time: 2-3 minutes
This archived news story is available only for your personal, non-commercial use. Information in the story may be outdated or superseded by additional information. Reading or replaying the story in its archived form does not constitute a republication of the story.
MURRAY -- A new TV ad is adding drama to the Utah Republican U.S. Senate campaign. In fact, one candidate says the ad is a lie.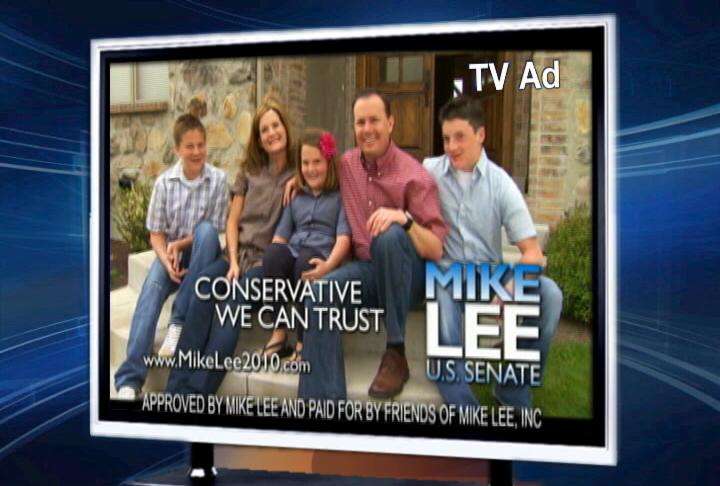 Mike Lee's latest TV ad ties Bridgewater to President Obama and claims Bridgewater "supported huge Washington spending increase, made huge money from earmarks and the Obama stimulus bill, even voted to send tax dollars overseas."
In response to the claims made in that TV ad, Bridgewater said, "They're absolutely not true. I've never received stimulus money, and I've never benefited or sought an earmark for anything."
But Lee defended the claims before a candidate forum at Intermountain Medical Center Tuesday.
"He's listed as owning $50,000 to $100,000 in stock in Raser Technologies. He's listed as a financial consultant and adviser to that company; and that company did receive a $5 million earmark, requested through Sen. Bennett's office, for earmarks, for funding, for vehicle fleet electrification," Lee said.
Related:
"I've never profited from earmarks, nor sought earmarks," Bridgewater said. "The ad says I did, that I received stimulus money: not true."
Lee and Bridgewater are at odds about that, but during forums they're message is familiar.
"Lawyers make regulations. Businessmen make jobs," Bridgewater said.
"I have spent my career among many other things, devoting myself to the U.S. Constitution," Lee said.
The candidates have both done polls, but neither will release details. Lee says it's a close race. Bridgewater says he's "comfortable" with the results.
But the dueling ads running now show the race is heating up.
"I think they show a desperate attack by my opponent who is losing ground rapidly," Bridgewater said.
"Well, we're pointing out differences between us, and the differences are what they are," Lee said.
Of course, voters will have the final say on that next Tuesday, June 22.
E-mail: rpiatt@ksl.com
×
Most recent Utah stories