Estimated read time: 5-6 minutes
This archived news story is available only for your personal, non-commercial use. Information in the story may be outdated or superseded by additional information. Reading or replaying the story in its archived form does not constitute a republication of the story.
SALT LAKE CITY -- Homeowners affected by the weekend oil spill in Salt Lake City voiced their concerns to Chevron officials Monday night.
Chevron gets feedback from neighborhood residents
Chevron took the brunt of the questions and complaints from the roughly 250 people who came to Clayton Middle School to try and get answers.
---
I'm here tonight to make sure that this whole thing, that somehow they restore the stream; that these upper oil execs pay their fair share for this whole mess.
–Dave Mayo, Salt Lake City resident
---
The meeting was divided up into different rooms, according to concerns. Predictably, most people stayed in the auditorium to hear from Chevron about when the clean up would be complete.
"The timeline, we don't really have an answer for you at this point," said Chevron representative Brad Rosen.
Many people asked about the smell of the oil and when that might reduce.
"As the days get warmer, the oil that is there right now is going to evaporate; and the smell is probably going to get worse before it gets better," Chevron representative Brian Tucker.
Related:
Residents were also concerned with the water quality of Red Butte Creek and the Jordan River, and getting them restored.
"I'm here tonight to make sure that this whole thing, that somehow they restore the stream; that these upper oil execs pay their fair share for this whole mess and make sure that it mostly gets restored," said Dave Mayo, who lives in the area where the oil spill occurred.
Donna Olsen, also a resident in the affected area, said she's concerned because "the neighborhood dogs and the neighborhood kids can go and walk right down there to the river. They can put their feet right in the water right there, and there's oil in there. There's no booms, there's no signs, there's nothing."
"It's my neighborhood," Glinda Cotter said. "I was by the creek today, and the smell is hideous; and I saw a bird taking a bath, drinking from the water -- that's a dead bird. So, it's really upsetting."
Chevron says it's completely assessed all 18 areas and will move forward with its cleanup plan. Company leaders could not answer how long that would take, but they did promise to get it done.
Arc burns hole in pipe
Earlier in the day, Chevron said they've determined that the oil leak came from a hole in a pipeline that was caused by an electrical arc.
At a mid-morning news conference, Chevron refinery manager Mark Sullivan said crews dug up the pipeline Sunday night and discovered the hole in it was the size of a quarter.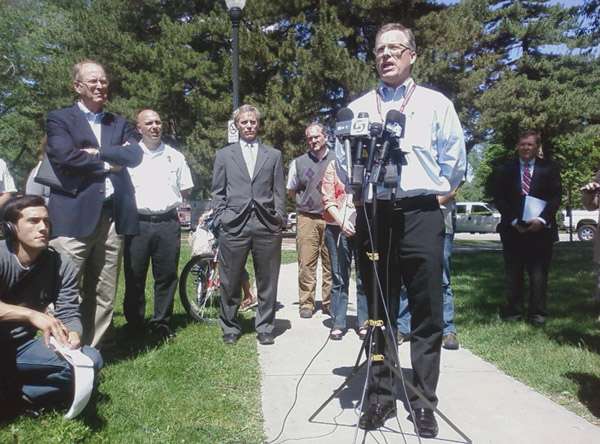 The crude oil in the pipe -- buried 3 feet deep -- is under such tremendous pressure it spurted through the hole and came bubbling out of the ground at 50 gallons a minute.
Sullivan said the company believes the rupture in the 10-inch pipeline was caused by an electrical arc that traveled through a metal fence post inches from the pipeline. The post is part of a security fence installed 30 years ago by Rocky Mountain Power.
A surge of current, estimated at 46,000 volts, flowed into the ground. Sullivan said the arc acted like an electrical torch, cutting the hole in the pipe.
"When you weld two pieces of metal, you use very high voltage to melt the two pieces of metal together," he explained. "You can also use it to gouge holes. In this case, that is what happened -- an electrical arc cut the piece of pipe."
Chevron does not know what caused the electrical arc. The company says it is looking into whether a power outage Friday night had anything to do with it.
Rocky Mountain Power says a tree limb falling on a power line caused the outage at 9:19 p.m. Friday.
One theory is that the current flowed through the tree into the ground when the tree touched the power line. However, Chevron says that's not necessarily what caused the problem with the pipeline.
Rocky Mountain Power spokesman Dave Eskelsen says it is possible for a limb to cause arcing.
"As far as we know, a tree blown onto the line caused the circuit breakers at the substation to open," he said. "As far as we know, everything operated normally. We restored the power about 40 minutes later."
Still, Eskelsen says it's too early to draw any conclusions. [CLICK HERE to listen to a KSL Newsradio interview with Eskelsen]
Chevron also is investigating the metal fence post and who placed it there.
Monitoring systems did not detect leak
Related:
Another oddity of this incident is that Chevron's leak detection systems did not work.
The oil leak happened Friday night. By the time it was discovered Saturday morning, oil was already being found throughout waterways fed by the creek.
For reasons Chevron cannot explain why its monitoring systems did not detect a leak and the crude oil flowed undetected for, perhaps, nine hours.
"We have whole systems in place to monitor this," said Dan Johnson, a Chevron official. "This was such an unusual and unique situation, it's not understandable. It's unfortunate."
"There is no one in our pipeline company who has experienced this kind of a failure in the last 20 or 30 years that we're aware of," Sullivan said. "We think of this as a one-in-a-million event."
Chevron takes responsibility
As for whether Rocky Mountain Power shares any of the blame for the pipeline leak, Eskelsen said, "We just don't know. There's not -- we don't have enough information right now."
Both companies, as well as several public agencies, are now involved in an investigation. They want to figure out why it happened and what needs to be done to prevent it from happening again in the future.
Most of the oil pooled in the pond at Liberty Park. Hundreds of birds nesting there had to be taken to Hogle Zoo to be cleaned.
Residents living on the creek also are dealing with the mess. Chevron has contracted crews from Oregon to start the clean up process for affected neighborhoods.
People with yards affected by the oil are being told not to clean them but to file a claim with Chevron.
------
Story compiled with information from Nicole Gonzales, Randall Jeppesen, John Hollenhorst, Sheryl Worsley and The Associated Press.
×
Related stories
Most recent Utah stories