Estimated read time: 5-6 minutes
This archived news story is available only for your personal, non-commercial use. Information in the story may be outdated or superseded by additional information. Reading or replaying the story in its archived form does not constitute a republication of the story.
SALT LAKE CITY -- A Utah man set to die by firing squad next week made his final appeal for clemency Friday, with his attorneys saying he's a changed man. They're asking the state parole board to reduce his sentence to life in prison without parole.
The decision whether to spare Ronnie Lee Gardner's life now sits in the hands of the five-member Utah Board of Pardons and Parole. The board is now deliberating and will announce a decision Monday morning.
---
"Mr. Gardner acknowledged that he created quite a large deal of harm to the families," Parnes said. "He acknowledges that, he understands that. That is not in dispute." -Andrew Parnes
---
Utah Attorney General Mark Shurtleff said there could be other legal challenges up to the last minute.
"That's why the state of Utah, the director of corrections must contact me just prior to the execution to make sure all the legal remedies have been denied and they can go forward with the execution," he said.
Board members have over 1,000 pages of testimony, reports and other court documents to review before making a final decision on whether to commute Gardner's sentence.
Closing arguments from the defense
Gardner was not present at Friday's hearing because of pain issues with arthritis. But his attorney, Andrew Parnes, along with the state prosecutor, presented nearly 90 minutes of closing arguments to the board.
Parnes said his client is a changed man who is remorseful for the crimes he's committed. He asked the board to consider whether Gardner's sentence was initially inappropriate.
"Mr. Gardner acknowledged that he created quite a large deal of harm to the families," Parnes said. "He acknowledges that. He understands that. That is not in dispute."
Parnes also says evidence of Gardner's troubled childhood should be considered in their decision making.
"Those kinds of risk factors and the life that he had that were not fully presented to the trial court, and jury are such that this board can consider those in determining both that the sentence that was imposed was not appropriate and, secondly, a reason to set aside the sentence of death and commute the sentence to life without the possibility of parole," Parnes said.
Parnes presented affidavits from several jurors who decided Gardner's fate in the 1985 trial.
"Clearly the affidavits, each one states that had life without possibility of parole been an option -- and it was not in 1985 -- that it is likely that he would have received that sentence," he said.
Closing arguments from the prosecution
The state objected to Gardner's attorney submitting affidavits from the jurors who stated they may have voted differently had they known about his troubled childhood and had the option of life in prison without parole been available.
---
Even when that total picture is looked at, it does not call into question the views of the original sentence and it does not present a reason to abbreviate the sentence.
–Assistant Utah Attorney General Thomas Brunker
---
However, the board accepted the affidavits with caution and stated it will take them under consideration when making their final decision.
State prosecutors also asked the board to consider Gardner's violent past.
Utah Assistant Attorney General Tom Brunker says the board needs to weigh the late change in Gardner with his criminal history when making its final decision.
"Mr. Gardner's death sentence was fair and is fair and should be carried out," argued Brunker, who also cast doubt on Gardner's claims he's a changed man.
In addition to the killings of Michael Burdell and Melvyn Otterstrom, Gardner also shot and injured bailiff Nick Kirk and has a long history of violence in prison too. That includes stabbing another inmate and escape attempts.
State prosecutors said Gardner only conforms to rules to save his own life, and that's not worth the risk.
Brunker told the board another explanation for Gardner's vastly-improved behavior record in the past five years is "sense of self-preservation."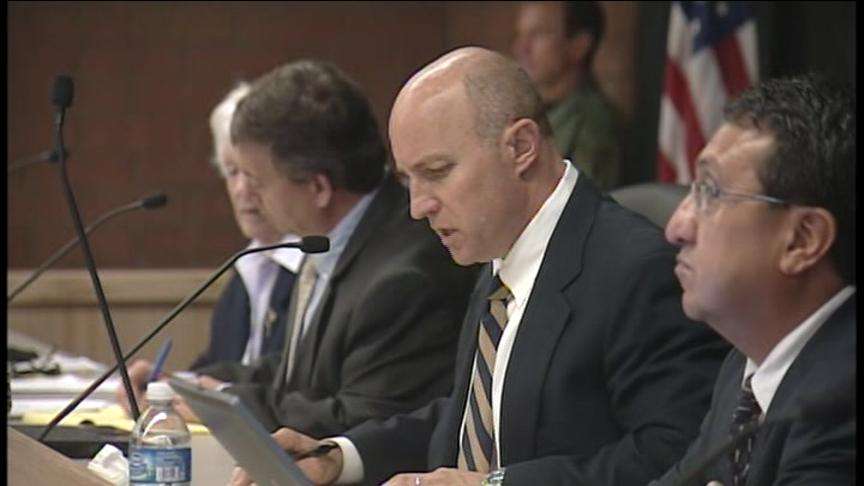 Brunker argued state and federal courts have looked at all aspects of the case in the 25 years since Gardner's conviction.
Brunker said though Gardner was a candidate for the death penalty for Burdell's murder alone, he was given the death penalty because of a pattern of violent criminal behavior.
"Mr. Gardner is telling you today that his sentence was invalid when it was imposed and that it should be abbreviated because the jury did not hear some of the evidence that he developed in 1999," Brunker said. "But even when that total picture is looked at, it does not call into question the views of the original sentence and it does not present a reason to abbreviate the sentence."
A majority of the board must vote for clemency for the sentence to be changed before his June 18 execution.
Reaction from one victim's family
For the family of Nick Kirk, who was also shot and injured by Gardner, the idea of life in prison is not good enough.
"I don't usually like to see anybody get the death penalty, but when you take lives like he did, I think you deserve it," said Nick's wife, VelDean.
Nick died years after the courthouse shooting from a heart attack. However, his wife believes his injuries, and the excruciating pain he lived with as a result, contributed to his decline in health over the years and eventually his death.
"I am planning on witnessing [the execution]," VelDean said. "It'll be a closure."
History of Gardner's case
Gardner, 49, was convicted of capital murder and sentenced to death in 1985 for the fatal shooting of attorney Michael Burdell in a botched courthouse escape attempt earlier that year. Gardner shot Burdell while trying to escape from custody at a Salt Lake City courthouse; he was at the courthouse for a hearing on charges that he murdered bartender Melvyn Otterstrom the previous year.
Utah law allowed him to chose a firing squad rather than lethal injection because he was sentenced before 2004, when lethal injection became the state's default execution method.
Earlier this week, attorneys for Gardner asked the Utah Supreme Court to vacate his sentence and order a new sentencing hearing so that a jury could consider mitigating evidence from Gardner's troubled life -- early drug addiction, physical and sexual abuse and possible brain damage -- uncovered during a federal appeal in 1999.
-----
Story compiled with contributions from Shara Park, Sandra Yi, Marc Giauque, Becky Bruce and The Associated Press.
×
Related links
Related stories
Most recent Utah stories