Estimated read time: 2-3 minutes
This archived news story is available only for your personal, non-commercial use. Information in the story may be outdated or superseded by additional information. Reading or replaying the story in its archived form does not constitute a republication of the story.
Shelley Osterloh ReportingYesterday JetBLue Flight 292 made an emergency landing. It is likely some of the firefighters who were standing by to rescue people, trained for just such an emergency here in Salt Lake City.
The Salt Lake Airport Rescue and Firefighting facility showed us a blackened plane that has seen many a fire. In fact it is plumbed with gas so that at the push of a button it can go up in flames. It something no one wants to see for real, but something airport firefighters from across the country come to practice on, so if it really happens they can save the lives of the passengers inside.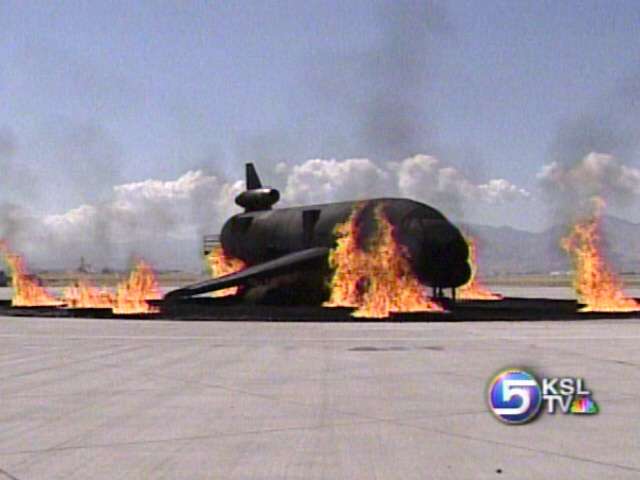 Imagine a plane skids to a stop and bursts into flames, jet fuel spills around it. Firefighters at the Salt Lake International Airport are trained and prepared to be there within a minute and a half. The Salt Lake Airport Rescue and Firefighting facility is a specially designed training facility used each year by more than 800 firefighters from around the country.
Bat. Chief Reinhard Kauffman, Airport Fire Chief: "We have people from as far away as the Antarctic coming here to our training center."
It is unique because it is one of the few in the country that can simulate both exterior and interior fires at the same time. How? There are more than 80 fire elements in a pit of rocks, controlled by a computer that simulate a fuel spill. And inside technicians can control flames in the cockpit, galley, or seating area.
Capt. Martha Ellis, ARFF Training Center Manager: "It's real time experience and we can create any number of scenarios for these guys. You see just a quantum leap in their capabilities and their confidence and their ability to think. It's what we really like to cultivate here."
State of the art Aircraft Firefighting Trucks are used for training, but in the event of a real emergency they are just seconds from the runway. Salt Lake City Firefighters at the airport are on alert several times a day, and while most are safely resolved, they get plenty of real emergencies.
Bat. Chief Reinhard Kauffman, Airport Fire Chief: "When was the last time? It was yesterday when we had small Cessna come in with the landing gear up so it did a belly landing. So it was just yesterday."
Salt Lake International has two fire stations, one on each side of the airport. And firefighters train every day to be sure if anything goes wrong, they'll be there is save lives.
×
Most recent Utah stories