Estimated read time: 4-5 minutes
This archived news story is available only for your personal, non-commercial use. Information in the story may be outdated or superseded by additional information. Reading or replaying the story in its archived form does not constitute a republication of the story.
SALT LAKE COUNTY -- Flood waters from a swollen Little Cottonwood Creek surrounded some homes and businesses and submerged the city park in Murray Monday morning.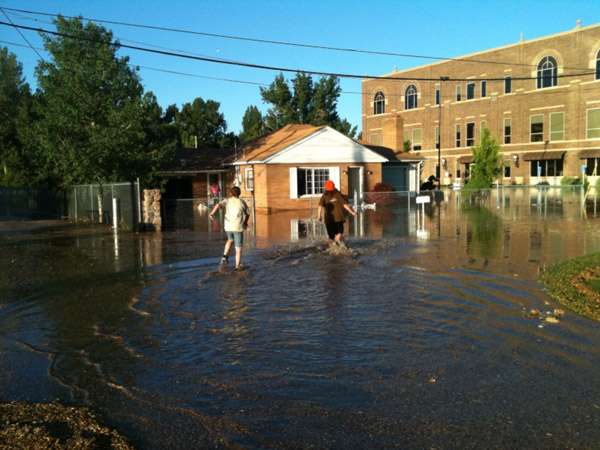 Murray neighborhoods see worst flooding in yearsLittle Cottonwood Creek runs right through a Murray neighborhood at about 550 East and 5300 South. Water has been continually rushing under a nearby bridge, affecting the homes all along the street.
Neighbors in this area have been sandbagging since late Saturday. They were at it again Sunday night, but the bags couldn't prevent the water from getting into basements and crawl spaces.
The residents say it's actually the groundwater that's getting into their homes, not necessarily the river overflow.
Either way, this street of homes is definitely being affected by what some are calling the worst flooding in years.
Marge Hamblin has lived in her Murray house for 30-plus years, and she says it's never been this bad. Her basement carpet is sopping wet; and even further down in her storage room, there's about 4 feet of water.
Sandbags and Volunteers
Sand and sandbags are available at Salt Lake County Works at 604 W. 6960 South in Midvale and at Cottonwood Heights Elementary School at 2415 E. Bengal Blvd. (7530 South). Volunteers are also needed to fill sandbags at this location.

Citizens wishing to volunteer to help with flooding issues can go to www.slcoem.org for information.
"One step down the stairs I could tell it was all wet," Hamblin said. "Then way down below it was a swimming pool, except a messy one."
"It's supposed to get worse," said resident Janet Buonocore. "It's extra high right now, higher that it was yesterday at this time."
A home near 5100 South and 300 East, which sits about 100 yards from the creek, is surrounded by water. Elaine Sharp's mother lives there.
"My mom called me about 4:30 [a.m.] and said 'Bring trucks,'" she says. They moved some furniture out of the home.
Sharp says the water in the front yard is knee- to waist-deep. The backyard is under 6 feet of water, and there are a couple of inches of water inside the home.
Related:
"When she said, 'come,' I came and didn't even expect to see this," she says.
Most of the homes in the area already have pumps going into their basements and crawl spaces. They hope to avoid too much damage to their homes, especially with the water possibly rising Monday night.
Murray Park flooding tangles traffic on State Street
Warm temperatures sent the creek rushing down the canyon and spilling over into Murray City Park late Sunday night. "We've got depths at about 5 or 6 feet deep in the park area," says Russ Groves of the Murray City Fire Department.
Huge puddles of water overflowed onto State Street at 5100 South. Morning commuters inched along as crews closed two of the northbound lanes. One southbound lane also remained closed into Monday afternoon.
Crews worked to clear debris floating through the creek. They were concerned that big logs and sticks could keep the water from draining.
National Weather Service explains flooding
The National Weather Service has issued a flood warning for the Little Cottonwood Creek. In addition to the rapid snowmelt, thunderstorms may increase the flood threat.

National Weather Service hydrologist Brian McInerney said late snowmelt plus above-average temperatures and a Sunday thunderstorm combined to exacerbate flooding problems.

McInerney said melt was delayed by a month, with snowpack building through the second week of May after above-normal precipitation. Normally snow would be melting off in April.

With temperatures about six degrees cooler than they were Sunday, the water flow was not expected to reach Sunday's levels on Monday, but it was expected to return to flood stage or near it Monday night.
"We've got to make sure the storm drains are clear. All we can hope is that the water subsides a little bit, and then we can go about cleaning up the park," Groves says.
By Monday evening, park officials decided to close the park for safety reasons.
Local businesses affected
In front of the Murray Boys and Girls Club adults shoveled and filled sandbags alongside teenagers who hauled the bags over to surround the doors and protect the building.
"This is the first day of summer programs for us at the Boys and Girls Club today," says Director of Operations Brandon Horrocks. "Notice that our entire field and playground's flooded out, and our gardens are flooded out. Today is not going to be an outside play day."
The water stayed about 2 feet away from the actual building, which allowed the center to stay open.
"We can weather this storm. We are not worried about that. But we just want to make sure that, number one the kids are safe, and then we want to make sure our building is OK," says Horrocks.
Next door at the Elizabeth Academy, Vanessa Williamsen showed up to work and couldn't get within 30 feet of the door without getting very wet. She is worried about how much damage is inside.
Water also has lapped at some of the Murray City School District's buildings. Crews are sandbagging around Parkside Elementary School. School is not in session, but employees say it looks like a lake suddenly has developed outside their windows.
The water also reached the parking area of Intermountain Medical Center. Murray police say there is nowhere for water from the raging creek to go. Battalion Chief Randy Willden told KSL the last time he remembers anything like this happening was in 1983.
------
Story compiled with information from Andrew Adams, Randall Jeppesen, Anne Forester, Nicole Gonzales and The Associated Press.
×
Photos
Related links
Related stories
Most recent Utah stories