Estimated read time: 2-3 minutes
This archived news story is available only for your personal, non-commercial use. Information in the story may be outdated or superseded by additional information. Reading or replaying the story in its archived form does not constitute a republication of the story.
Ed Yeates ReportingThe surprising catastrophic death of a dinosaur in an unusual place you wouldn't expect to find it! The discovery is now in the basement of the Museum of Natural History, ready for the public to see for the first time
It's not often the public can come down here in the basement of the museum to see things they've never seen before. But this Saturday they're going to see something really unique. For the first time in Utah - and for that matter the United States - paleontologists have discovered a plant eating dinosaur that was most likely killed instantly from a collapsing sand dune.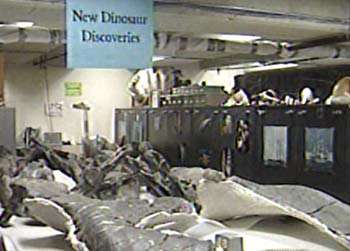 Mark Loewen, University of Utah Research Paleontologist: "We're not a hundred percent sure on that, the jury is still out. But we think we have pretty good evidence that this was a catastrophic burial."
In the instant throws of death this ancestor to the long-necked sauropod was unearthed in the deserts of southeastern Utah by explorer Joe Paycheck.
Mar Loewen: "It's quite unusual to find a dinosaur, let alone in the Navajo sandstone, but also preserved in such an exquisite way."
The fossil was buried in the quarry block on its head with its tail in the air and its arms outstretched. But this is not the only unusual find. How about the bones of a new species of a meat eating Falcarius dinosaur that later evolved into a loving plant eating dino. Not only an adult, but juveniles and babies, all from the same bone bed.
Lindsay Zanno, University of Utah Research Paleontologist: "The Falcarius bone bed is one of those rare opportunities where we get the chance to study how one of these dinosaurs can grow from an infant all the way to an adult."
What's in the basement? That's what this is all about and something Lindsay Zanno, Mark Loewen and their colleagues want you to see to believe.
Want to see the basement? It's open, only for a while, this Saturday from 10 am to 5 pm.
×
Related links
Most recent Utah stories