Estimated read time: 2-3 minutes
This archived news story is available only for your personal, non-commercial use. Information in the story may be outdated or superseded by additional information. Reading or replaying the story in its archived form does not constitute a republication of the story.
WEST JORDAN -- Timpanogos Cave was the scene of two rescues during the month of May, one day apart. A cave employee was killed in one incident; the other involved an 11-year-old girl who fell off the trail during a school field-trip.
Shailyn Williams is now home from the hospital. Her injuries are quite severe, but all things considered, her parents say she's doing remarkably well.
At home, Shailyn's bed looks a little out of place in her family's front room, but her injuries prevent her from getting to her bedroom downstairs.
"She can't eat. She can't move. She just wants to go play, so she wants to be with her friends, and she can't go back to school this year," says Cindy Polad, Shailyn's mother.
Shailyn gets frustrated at times -- sipping soda through a syringe and sitting in bed all day-- but her mother knows Shailyn is lucky to be alive.
"It's a miracle she's in the condition that she's in," Cindy says.
On May 19, Shailyn and her classmates were on a field trip to Mount Timpanogos Cave when she slipped on the trail and started tumbling down a steep hillside.
Shailyn fell 20 feet, was able to cling to a small tree branch until it broke, fell another 80 feet, and then settled in what her dad called "a big pile of rubble."
"She was conscious when they got to her," Cindy says. "She doesn't remember the fall itself, but she does remember tripping, and then remembers people coming to the bottom."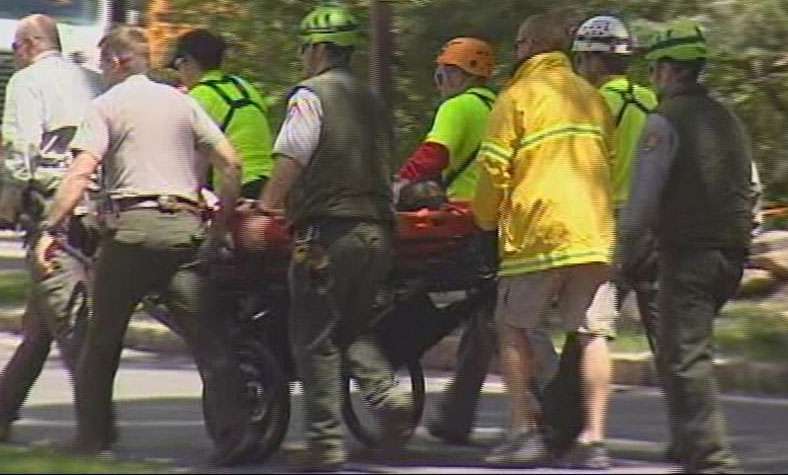 Shailyn was rushed by medical helicopter to Primary Children's Medical Center, where her parents were given a laundry list of injuries: a concussion, shattered jaw, lacerated spleen, three broken ribs, a broken pelvis and a broken hip.
Shailyn's jaw is now wired shut while it heals. She has a long road to recovery, but her parents say they're grateful it wasn't worse.
The day after Shailyn's fall, a Timpanogos Cave employee tumbled 1,000 feet down the mountain to his death.
"Just to have her with us is a blessing," Cindy says.
It's a blessing to her classmates too, who have visited her makeshift bedroom with well wishes.
"They told me to get well soon," Shailyn says.
Timpanogos Cave employees say they have stopped all bike travel on the trails and are looking into possible new safety measures.
Meanwhile, Shailyn's family and friends are planning a fundraiser to help cover the costs of her medical expenses. The public is invited to the event, which will be held Saturday, June 12, from 10 a.m. to noon at Boondocks Fun Center in Draper.
E-mail: jstagg@ksl.com
×
Related stories
Most recent Utah stories