Estimated read time: 2-3 minutes
This archived news story is available only for your personal, non-commercial use. Information in the story may be outdated or superseded by additional information. Reading or replaying the story in its archived form does not constitute a republication of the story.
SALT LAKE CITY -- A Utah artist is creating a sculpture that will stand as a memorial to a young woman who died. The statue also will grace a new park in her memory.
The hands of master sculptor Lena Toritch created the graceful fingers of the clay model of Kelly Brennan.
Though not from here, Brennan died in a car accident in Utah in 1997. The statue is healing for a grieving family.
Utah artist Lena Toritch, trained in St. Petersburg, Russia, has worked for six months on the clay base that will eventually make a bronze statue.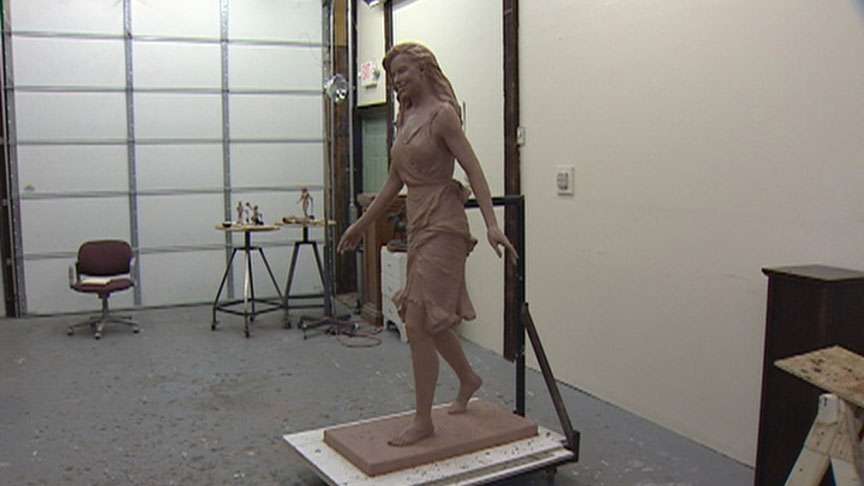 "I felt very big responsibility," Toritch says. "It's not only bringing back this woman to her family -- her features, her tender spirit and her beauty -- but also she will become a symbol."
The sculpture will stand as a prominent feature in Idaho's first whitewater park in Cascade.
Kelly's sister and brother-in-law are funding the project and talked with KSL News by phone from Florida.
"Everybody loved her, just her sense of humor, her smile, her beauty," Kristina Pickard said. "She loved sports. She loved the outdoors, and she really loved Utah."
Kristina's husband, Mark, said, "The townspeople who never got to meet her are also taking a kind fondness to her. So, she's really the guardian of the park."
Toritch used photographs of Kelly to create a small-scale sculpture, which the family approved.
The flowing material of her dress and the appearance of a breeze through her hair will make Kelly a lasting part of nature, which she loved.
"It gives new meaning to life. We're never really gone, so her spirit is there in the park," Toritch says. "[It] should be an uplifting message that we always can do something, even after we're gone."
Kelly's Whitewater Park, on the Payette River in Cascade, Idaho, opens June 14. Her statue dedication will take place on Aug. 21, what would have been her 36th birthday.
E-mail: cmikita@ksl.com
×
Photos
Related links
Most recent Utah stories