Estimated read time: 3-4 minutes
This archived news story is available only for your personal, non-commercial use. Information in the story may be outdated or superseded by additional information. Reading or replaying the story in its archived form does not constitute a republication of the story.
SALT LAKE CITY -- Police in Salt Lake City reopened a 45-year-old missing persons case. They also launched a new website dedicated to missing persons.
That new website, launched Tuesday, profiles missing persons in the Salt Lake area. One of those cases is that of Reed Jeppson.
Reed was 15 years old when he disappeared near his Salt Lake City home. On Oct. 11, 1964, he went outside to walk his two German shorthaired pointer dogs. Jeppson and the two dogs were never seen again.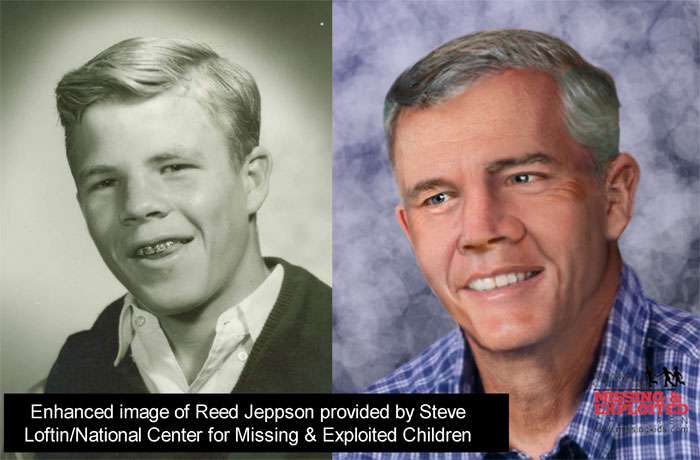 Reed's brothers and sisters say the past 45 years have been difficult, not knowing what happened to their brother.
"It's one of those sweet sorrows that opens up a lot of pain," said sister Suzanne Jeppson Tate. "We've suffered a great loss as a family from him not being with us."
All they can do is wonder: "Who would he have married? Who would have been his children?" she said.
Suzanne says she was preparing dinner after church that Sunday in October when her little brother Reed went outside. She reminded him about dinner, and never saw him again.
"It would be just as if I'm talking to you, and I turn around and you're gone," she said.
There was a search, a police investigation, and friends and family all got involved.
Suzanne says someone must have taken him, because her brother would never leave his family.
"He was finding success in life," she says of Reed. "He had just made his first touchdown on the East High School football team. He had a paper route where he was earning his own money, and all of his money and his personal belongings were left at home."
Days turned into weeks, months, then years. Police closed the case in 1966.
Reed Taylor Jeppson
DOB: May 28, 1949
Date Missing: Oct. 11, 1964
Missing from: Salt Lake City
Hair: medium blond hair
Eyes: Blue Eyes
Height: 5 feet, 6 inches
Weight: 140 pounds
Clothing: Blue Levi jeans, white cotton knit shirt, gym shoes and a reversible parka (black on one side, blue on the other)
Now, the Jeppson family is grateful for the second look, even it is years later. They still hope someone can come forward.
"It's exciting to know that he's thought about and that there's an opportunity we may be able to find out what happened to him," said Reed's sister Becky Purdue.
The family doesn't think he's still alive -- they just want to find him.
"We might not know what happened to him, but to know where his remains are, that would bring us great peace," said sister Christine Snyder.
The family says they hope the new missing persons website and new DNA database will all help.
Police are taking DNA samples from all of Reed's siblings. The samples will be entered into two different databases for missing persons.
Salt Lake City police hope someone will remember something from Reed's case to give them a break.
Cody Lougy, the detective assigned to Reed's disappearance, said, "Motives change with time. Friends and acquaintances of Reed or persons involved in his disappearance may be more willing to come forward today than they were 45 years ago, which we're hoping will lead to a break in this case."
This case is one of four profiled on the new website introduced by the Salt Lake City Police Department May 25, which is National Missing Children's Day.
If you have any information on this case, please call the Salt Lake City Police Department at 801-799-3000 and reference "Reed Jeppson" or case #64-46859.
------
Story compiled with contributions from Sandra Yi and Mary Richards.
×
Related links
Most recent Utah stories