Estimated read time: 2-3 minutes
This archived news story is available only for your personal, non-commercial use. Information in the story may be outdated or superseded by additional information. Reading or replaying the story in its archived form does not constitute a republication of the story.
GILA VALLEY, Ariz. -- President Thomas S. Monson of The Church of Jesus Christ of Latter-day Saints traveled to Gila Valley, Ariz., this weekend to dedicate the Church's 132nd temple.
This is the first temple President Monson announced shortly after he became Church president in 2008.
Many Latter-day Saints said it was a joyous day, as they got a chance to be part of the dedicatory services for their new temple and to be with their prophet.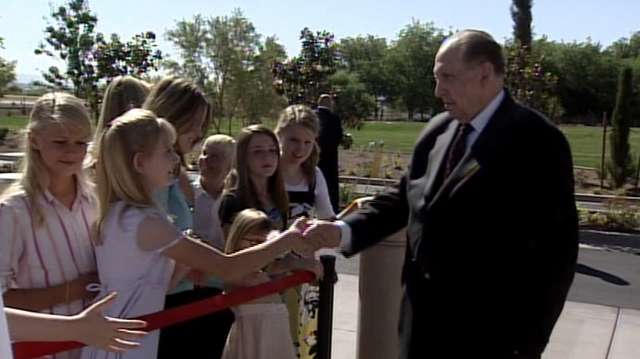 President Monson greeted dozens of children as he arrived at the temple Sunday morning. Then he and other Church leaders sealed the cornerstone.
As always, he invited a few of the young ones to help.
"I put cement on the cornerstone," said 8-year-old Jared Reidhead. "[It was] awesome."
As Church leaders arrived in the Gila Valley Saturday night, they remembered with fondness Church President Spencer W. Kimball, who lived in the area for many years.
"He was quite a powerful man here on earth and maybe the Lord will let him look in tonight and tomorrow and see the temple in Safford, Ariz., which is a city he loved very much," said President Monson.
President Henry B. Eyring, First Counselor in the First Presidency of the Church, and Elder Jeffrey R. Holland of the Quorum of the Twelve Apostles, traveled to Arizona with President Monson for the dedication.
"My childhood was hearing stories of Pima and all of the people. Three or four of the people who I met today, those are the names that dad talks about so they are descendants here," said President Eyring. "It really is like coming home. This temple is just marvelous."
Elder Holland said the temple dedication brought back thoughts and memories of President Kimball.
"I think we are all tender because of the memories about President Kimball," he said. "I think every single one of us are remembering moments we had with him or some way that he touched us."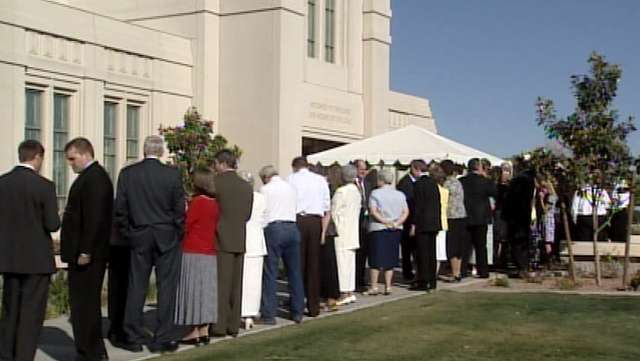 Two of President Kimball's children came for the dedication.
"My grandfather, Andrew Kimball, was a stake president in the late 1800s. My father, Spencer W. Kimball, was a stake president in this area also. I'm sure he understood some way, spiritually, that there would be a temple here," said Andrew Kimball.
President Kimball's daughter, Olive Beth Mack, said this homecoming was a very special one.
---
It's the most amazing experience. Once in a lifetime. Something I will never forget.
–Jaron Lines
---
"It's such a privilege for me to come and I've loved everything," she said. "To come back home is fun, besides knowing that we have a temple here is wonderful."
Latter-day Saints from the area were very emotional at Sunday's dedication.
"It's the most amazing experience," said Jaron Lines of Safford. "Once in a lifetime. Something I will never forget."
Now that the dedicatory services are over, the doors of the temple will open to the 21,000 Latter-day Saints who live in this area.
E-mail: cmikita@ksl.com
×
Related stories
Most recent Utah stories