Estimated read time: 2-3 minutes
This archived news story is available only for your personal, non-commercial use. Information in the story may be outdated or superseded by additional information. Reading or replaying the story in its archived form does not constitute a republication of the story.
Jed Boal ReportingOne year ago today, more than 25,000 Latinos and supporters rallied in downtown Salt Lake City, along with millions nationwide. Now Latino leaders have new optimism, along with concerns about increased immigration enforcement.
That day when thousands marched on State Street, the immigration issue reached the top of the political agenda. There hasn't been any immigration reform, but efforts have been renewed, and there's a tougher ICE.
Last April, immigration was the issue as Latinos and supporters rallied and stirred up opposition. Congress backed down from criminalizing undocumented immigrants, made a run at reform and failed. Now the president expects more success with the opposing party in control.
Local Latino activist, Tony Yapias, believes those rallies built momentum. "Every passing day we hear new proposals coming out of Washington, some new version of the plan coming out. I think we're more optimistic than ever before," he said.
He knows comprehensive reform will take a lot of compromise, and details intensify debate.
Also in the last year, the Department of Immigration and Customs Enforcement, or ICE, intensified its search for undocumented immigrants and cracked down on businesses that employ them. Under Operation Return to Sender, customs agents formally removed or deported 18,000 illegal aliens during a nine-month period. There were more than 200 arrests and 77 deportations for our two-state region.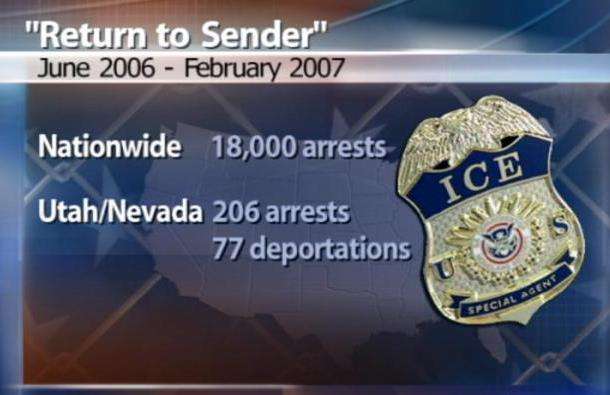 Virginia Kice works for ICE. She said, "We are targeting foreign nationals who have been ordered deported by immigration judges and ignored those orders."
The bust in Hyrum at the Swift meat-packing plant in December was part of a multistate, ongoing crackdown on companies that employ undocumented workers.
"One of the new faces of the immigration issue is the children left behind. We're concerned about the deportations going on. We're concerned about the families left behind," Yapias said.
ICE argues it's enforcing the law. "We're not going to decide what's in the best interest of their children. They bear responsibility for the fact that they came here in violation of the law, and their children, unfortunately, will suffer some of the consequences," Kice said.
ICE has four times the number of fugitive teams than it had four years ago and expects to continue to increase arrests and deportations. In Utah, our legislature plans an immigration summit this summer.
×
Most recent Utah stories