Estimated read time: 2-3 minutes
This archived news story is available only for your personal, non-commercial use. Information in the story may be outdated or superseded by additional information. Reading or replaying the story in its archived form does not constitute a republication of the story.
TIMPANOGOS CAVE -- For the second day in a row there's been a rescue on the trail at Timpanogos Cave, but Thursday's rescue turned into a recovery effort after a park service employee was killed.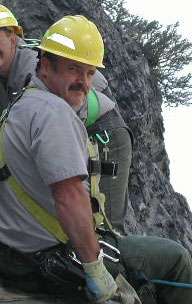 Around 1:30 p.m., there was a crew of cave employees working to remove rock from the trail. One of those workers, identified as 59-year-old Rex Walker, was acting as a spotter when, for some reason, he went over the edge.
Investigators say they may never know what happened.
"What we do know is that he was driving a motorized vehicle up the trail, and for some reason he went off the trail. We're not sure why that happened," Utah County sheriff's Lt. Dave Bennett.
The team was working near the exit of the cave, doing what they call rock-scaling work. Essentially, they were removing potentially dangerous rocks, which could fall onto the trail.
They were keeping hikers out of the area while doing the work, and Walker was moving around on a motorized scooter when he went over the edge of the trail.
No one saw it happen, but employees heard him fall.
"At that point, we rushed to the scene, saw the trail bike," Davis continued. "We set up a rappel and went down to it, but there was no sign of him. A few minutes later we heard our rangers coming up from below discovered him in the ravine. So he had fallen, my guess is, over 1,000 feet down the chute."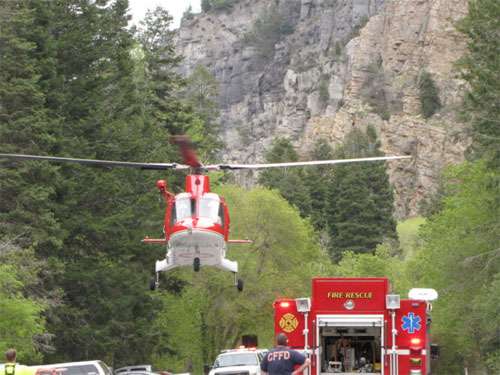 The area where Walker fell is particularly dangerous. It is the same location where a Russian tourist fell to his death three and a half years ago. He was attempting to rescue a young girl at the time.
Then Wednesday afternoon, an 11-year-old girl on a field trip fell of the trail and was seriously injured.
"We have particularly dangerous areas all along the cave trail. There are drop-offs, which could result in a fatal accident in numerous places along the trail," Davis said.
For hikers who are on the trail almost daily, they say the accidents won't discourage them from hiking in the future.
"It doesn't worry me. I have been up here many times, and they've really had no incidents like this. It's unfortunate it is two in two days," hiker Rhee Braby said.
Hiker Larry Braby said, "You have to keep an eye on them. They are straight-down cliffs. You got to keep an eye on them, but I would hate to see anything to stop people from going up there."
Walker was a maintenance worker and had been an employee at the park for three or four years. He was very experienced, and to regular hikers on the trail he was a friendly face.
An investigation into the accident is continuing, and park rangers plan to re-examine safety precautions along the trail.
-----
Story compiled with contributions from Sam Penrod and Marc Giauque.
×
Related stories
Most recent Utah stories