Estimated read time: 2-3 minutes
This archived news story is available only for your personal, non-commercial use. Information in the story may be outdated or superseded by additional information. Reading or replaying the story in its archived form does not constitute a republication of the story.
Carole Mikita ReportingThe story is the Trojan War, what if you're the reporter assigned to cover it? Carole Mikita tells us about a young actress who learned a thing or two at KSL-TV News.
It was role reversal for Amanda Butterfield, she was being interviewed. Stacy Sobieski is a reporter in a play and asked if she could 'job shadow' a real one.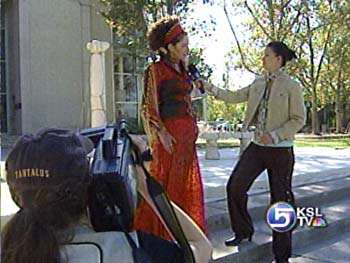 Amanda Butterfield: "She has a lot of questions, and they're very good questions. I've been very impressed, but really I just see her writing in her notebook and I'm thinking 'what is she writing?' So, it's caused me to make sure I'm doing everything right..."
Stacy Sobieski, Actress Playing Reporter "I see the people on TV and what they do, but it's really different in person. So it's been really nice to follow and see the things you don't see on camera."
"Iphegenia at Aulis" was first staged 2500 years ago - a tale of sacrificing the innocent before the Trojan War. The director had the idea to replace the traditional Greek chorus with a reporter,
Larry West, Director, "Iphenigia at Aulis": "It's invasive sometimes and sometimes it allows an individual to express that he or she wants and that's the old Greek chorus. I mean, it's just not a huge leap in my mind."
Stacy Sobieski: "It's fascinating to take a show that was written 400 B.C. and then be able to take those words and make it still relevant and put a modern twist on it with a reporter."
By the way, her character's name has a familiar ring to it...
Stacy Sobieski: "This is my press pass--Amanda Mikita, because I followed manda and then obviously, you followed me."
Even though we suggested Stacy consider journalism, she says thanks, but she'll stick with reporting on stage.
The play runs tomorrow and Sunday, the 17th and 18th and the 24th and 25th at 9am in front of Pioneer Memorial Theatre.
×
Most recent Utah stories