Estimated read time: 3-4 minutes

This archived news story is available only for your personal, non-commercial use. Information in the story may be outdated or superseded by additional information. Reading or replaying the story in its archived form does not constitute a republication of the story.

SALT LAKE CITY -- Close to 15 percent of returning U.S. soldiers will come home with post-traumatic stress disorder.

Iraqi Freedom Veteran Damien Holmes says the war memories that haunt him will never go away but through therapy he is learning to live with it. He's also reaching other Veterans through rap. Holmes: a.k.a. "O.B.R. Da Hit Man" is a local rapper and is healing through his music. His lyrics are raw, real, and very powerful.

Holmes was on the front lines in Iraq in 2003 and 2004 with an Army Infantry Unit. He saw a lot and did a lot he'd like to forget, but in war, it doesn't work that way.

"You learn to shrug it off," Holmes remarks. "You are wearing layers of armor, you got your helmet and your flak jacket, got your uniform and then you are stripped of all that and you don't have anything to hold that all in."

When he got home he had a hard time finding his place in the civilian world. His buddies were all still in Iraq and his family just didn't understand.

"Kicking holes in doors, yelling all the time and getting into fights," Holmes recalls. "It got pretty hairy towards the end of the year that I came home. It ruins relationships, breaks up families, you lose jobs.

"You get withdrawn; you segregate yourself from most of the world. You don't do anything, you get lazy ... you're just not the same."

Did you know...

The VA Salt Lake City Health Care System has a weekly PTSD intake session.
Every Tuesday (except holidays)
11:00 a.m.
Building 47 (Outpatient Mental Health)
George E. Wahlen VA Medical Center
No appointment necessary
Bring a copy of your DD Form 214
Holmes knew he needed help, but for a while pride got in the way. But through his rap and rapport with VA counselors, Holmes now has a new mission: watching out for his fellow Veterans here at home.
"Music has so much influence on everything," Holmes says. "So by me putting that together it's therapeutic for me and I can get it off my chest ... straight up in your face and in your ear."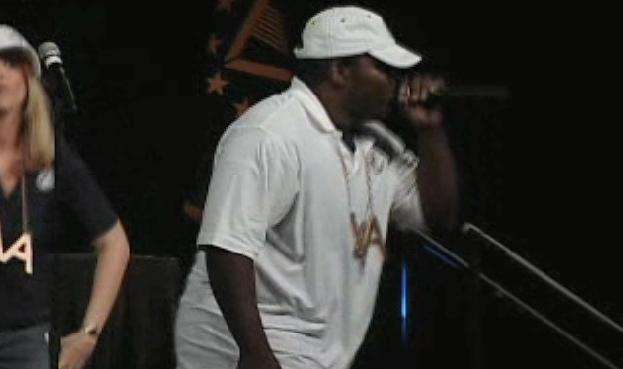 "Kick it in the rear, if you don't you're only hurting yourself and others -- mostly others. You think you can handle it, but no you can't. I'm here to tell you, no you can't."
About a third of the soldiers returning from Iraq and Afghanistan will come home with some sort of mental health or readjustment issue.
The George E. Wahlen VA Medical Center has hired dozens of new mental health professionals and has just recently broke ground on a new outpatient mental health clinic.
For more information about the VA Salt Lake City Health Care System call toll free 1-800-613-4012 or locally 801-582-1565.
×
Related links
Related stories
Most recent Utah stories