Estimated read time: 2-3 minutes
This archived news story is available only for your personal, non-commercial use. Information in the story may be outdated or superseded by additional information. Reading or replaying the story in its archived form does not constitute a republication of the story.
Tonya Papanikolas ReportingThe Jordan School District is offering its first all-day kindergarten classes to students at Midvale Elementary. It's a two-year pilot program, which could help children from disadvantaged families and those who speak Spanish at home.
110 kids started all-day kindergarten last week, and parents and teachers told us the students were a little restless at first. One mom told us her son came home and said he watched the clock and knew he was at school a long time. But school officials and even parents say they realize the advantages.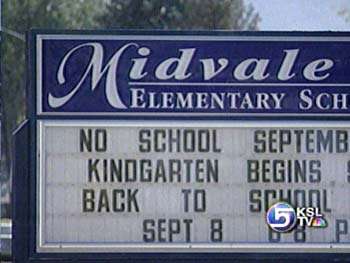 Go to any kindergarten class and you'll probably see kids learning their letters. But Midvale Elementary's kindergarten classes are not typical. Last week the school started Jordan District's first all-day kindergarten program.
Katy Roberts, Midvale Kindergarten Teacher: "I like having the kids all day because in half day I never felt like I got anything done."
The school's goal was to meet the needs of the students since 85-percent of the kids are bilingual or speak only Spanish.
Karen Kezerian, Midvale Principal: "We need to get the students that are speaking Spanish to speak English so that they're ready to learn how to read."
A longer day gives these students more English exposure. Another objective is to give students a head start academically.
Karen Kezerian: "This gives us another half day to be able to teach them all the things they need to be able to know."
Katy Roberts, Teacher: "I'm just hoping that having them now all day, even the ones that I wouldn't think would be able to read, by the end, will be reading."
Some parents say they were nervous about the idea at first, but now their kids are getting adjusted and learning a lot.
Ruth Nava, Mother: "I was really skeptical at first, thinking that maybe it was a little too much for them, but now I see that he does have a longer attention span."
Midvale Elementary takes in homeless students from two nearby shelters so all-day kindergarten also gives those students a safe place to be during the day.
Karen Kezerian: "It's a lot nicer for them because they know they're in a safe environment, they know they're able to get breakfast and lunch."
All five kindergarten classes at Midvale have moved to full day. The school received some federal funding to offer the program. Researchers at BYU are conducting testing both before and after the year to study the benefits to students. If the program goes as research suggests, teachers may soon be receiving apples as gifts from both students and parents.
×
Most recent Utah stories