Estimated read time: 2-3 minutes
This archived news story is available only for your personal, non-commercial use. Information in the story may be outdated or superseded by additional information. Reading or replaying the story in its archived form does not constitute a republication of the story.
John Hollenhorst ReportingDinosaur tracks, thousands and thousands of dinosaur tracks. That's what one man has found over the last four years at Lake Powell, and he wishes more people would notice. This is the story of a man some people call, "The Dinosaur Whisperer."
Andre Delgalvis makes his living shooting landscape photos, mostly of the spectacular scenery at Lake Powell, where he lives many weeks each year. Lately he's focusing on more intimate subjects -- footprints of creatures that tramped around here 190 million years ago.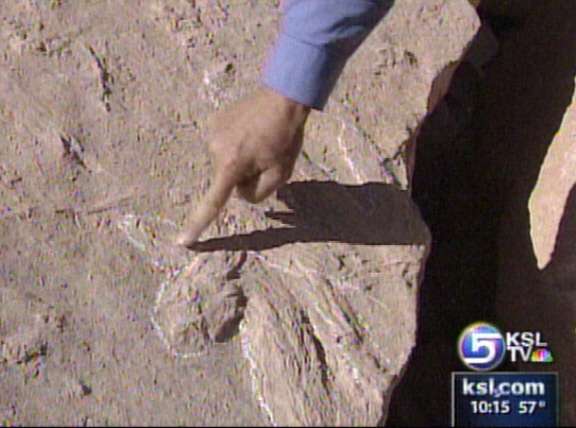 Delgalvis found his first one in 2003. By looking harder, he started finding more tracks than he ever imagined.
"I honestly could not believe it," he said.
Now he has photos and tracings of 2,000 or 3,000 ancient prints.
Andre Delgalvis told KSL, "Any time that I go out it's surprising if I don't come across at least one track. But more likely, if I find one track, I'll find 10 or 15 or 20."
When Lake Powell dropped dramatically a few years ago, many submerged dinosaur prints were revealed. Delgalvis campaigned to save them. "This is going to be underwater again at some point, and it may never been seen again."
A paleontologist moved some tracks to a Denver museum, but Delgalvis has drawn little institutional support. He says science could benefit because tracks, unlike bones, tell us how an animal behaved.
His plan was to create a museum at Bullfrog, but there was no money available. So now he hopes to create a traveling exhibit and take the dinosaur tracks on the road.
"I think I've just got a treasure trove of documentation here that I'd like to partner up with someone that we could bring this to the general public," he said.
He says some people call him The Dinosaur Whisperer. Maybe that's because key people are having trouble hearing his message. Andre Delgalvis has a Web site where you can get more information.
×
Related links
Most recent Utah stories