Estimated read time: 4-5 minutes
This archived news story is available only for your personal, non-commercial use. Information in the story may be outdated or superseded by additional information. Reading or replaying the story in its archived form does not constitute a republication of the story.
SALT LAKE CITY -- There may be no worse crime than the brutal murder of a child. To many people, the death of 4-year-old Ethan Stacy is inexplicable, beyond human imagination.
His murder has tested the psychology of Utah. Though very few even knew Ethan when he was alive, he is now the focus of shock and anger across the state.
Ethan's mother, 27-year-old Stephanie Sloop, sits in jail along with her new husband, 31-year-old Nathan Sloop, who's accused of killing Ethan.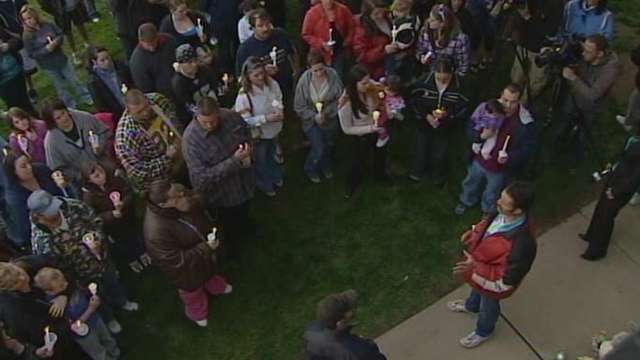 A vigil Wednesday night drew people who never knew Ethan or his family; and across the state, it was what we in the news business often call a "water-cooler story." People feel compelled to gather and share their feelings, even anger, about a stranger and his disturbing fate. "I just can't believe anybody would be heartless enough to do that to an innocent child who can't even defend their self," said Roy resident Alicia Spiegel.
That was a common reaction across Utah Thursday as details spread about the ordeal 4-year-old Ethan Stacy suffered in his last days on Earth. Many people attended a vigil in his honor Wednesday night.
"Nobody deserves to die like that, and that's what brought me here," said Layton resident Gary McPhie.
Even though very few knew the boy, many seemed to take personally a crime that seemed beyond comprehension.
"[It] makes me sick to my stomach," Roy resident Stephanie Farris said.
Internet comments ranged from shock, sympathy and sadness to sheer anger.
Related:
"I guess that's why we have a legal system that keeps us from being vigilantes. The emotions, I think, are understandable," says psychologist John Malouf, with Valley Mental Health.
Malouf says many people feel compelled to share their feelings about public tragedies.
"You know when you think about it, maybe it's because we're a communal species and we want to be able to connect and share tragedy as a group," Malouf says.
He thinks public venting helps some people reduce the intensity of their anger, and it may be good if people tune in to the plight of others and focus on legal reforms.
"I think the fact that people can express caring in this way says a good thing about humanity," Malouf says.
Anger becomes unhealthy, he says, if it remains intense for months or leads people to do bad things.
"But in general, I think if you're able to kind of go about your routine and not do anything destructive, you can feel a lot of rage, to my mind, without it really necessarily being a problem," Malouf says.
KSL also spoke to three religious leaders who are familiar with the kinds of feelings such a tragedy may unleash.
---
God will not force us. God has given us the free will to make some decisions. This is an imperfect world, bad things happen, evil things happen, horrendous things happen. The choice is how we respond to that.
–Rev. Lee Shaw
---
"I think that we're reminded that we're family, truly brothers and sisters, sons and daughters of a loving Heavenly Father," says Elder Steven E. Snow of the presidency of Quorum of the Seventy of The Church of Jesus Christ of Latter-day Saints.
Rabbi Benny Zippel with the Chabad Lubavitch of Utah says faith is one thing that can help people see through the heartache.
"Nothing can explain it -- it's literally gut wrenching, heart wrenching," he says. "It is at times such as these that the only thing that will carry us throughout is faith in God."
One question many are asking is, why would God let this happen? Rev. Lee Shaw, a pastor at St. Stephen's Episcopal Church says it's more about how we deal with those challenges.
"God will not force us. God has given us the free will to make some decisions. This is an imperfect world, bad things happen, evil things happen, horrendous things happen. The choice is how we respond to that," he says.
We all know that bad things happen to good people, and children throughout the world suffer daily. But when it's close to home, it feels worse.
"It is events such as this one that literally have us rattled to the core that have to bring to our attention how important our relationships really are," says Rabbi Zippel.
One thing all the religious leaders say is essential in tragedy such as this one -- supporting and uplifting one another.
"Care for one another. Be your brother's or sister's keeper," says Rev. Shaw. "That's what we need to do."
Elder Snow agrees. "It helps us when we lean on one another and exercise faith to get through these difficult, difficult tragedies," he says.
When we hurt for someone we didn't know, they say, it speaks of our humanity and our hearts, and often good comes from those deep feelings.
Stephanie and Nathan Sloop are being held in isolation cells in the Davis County Jail. They are not on suicide watch, but they have been allowed to speak with mental health evaluators about stress.
Story compiled with contributions from Carole Mikita and John Hollenhorst.
×
Related links
Related stories
Most recent Utah stories