Estimated read time: 2-3 minutes
This archived news story is available only for your personal, non-commercial use. Information in the story may be outdated or superseded by additional information. Reading or replaying the story in its archived form does not constitute a republication of the story.
WEST JORDAN -- Authorities say a former Garfield County School District official has been arrested in the alleged theft of thousands of dollars of district funds.
The sheriff's office says Justin Baugh was arrested Thursday night in West Jordan on felony charges of misuse of public money, communications fraud and tampering with a witness.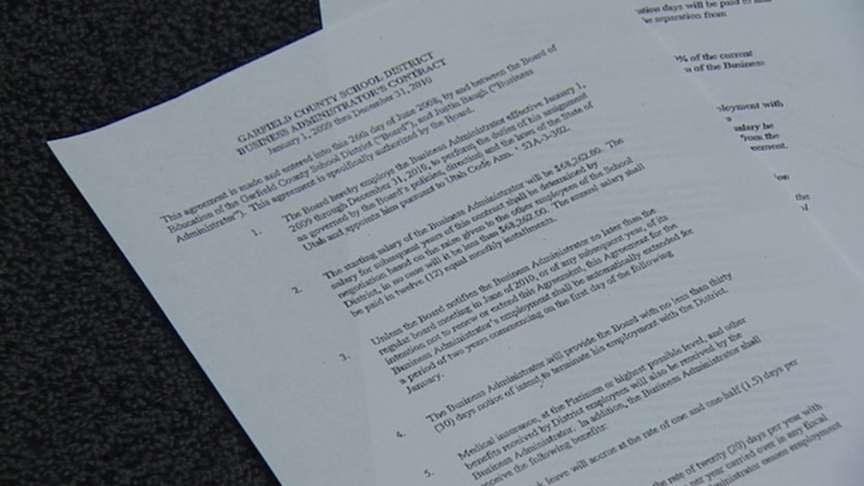 Baugh's arrest reveals troubling information about money prosecutors say he embezzled from Garfield School District.
The Garfield County Attorney's office says Utah state auditors found that Baugh had allegedly stolen between $50,000 and $80,000 while working as the school district's business administrator.
The audit found multiple checks that Baugh had written to himself and his wife. One was a check for more than $30,000. The audit further found that Baugh allegedly gave himself a travel stipend of $12,000 yearly. He also wrote large travel expense checks and received a personal computer that was purchased with school funds.
The charges also allege Baugh asked district employees to shred documents that could implicate him, and told them to keep quiet about it.
Baugh is being held on $25,000 bail and his first court appearance is set for May 13. If convicted, he could face up to 35 years in prison.
Baugh started his job as business administrator with the Garfield County School District in June 2008. Last May he resigned to take a job at the Canyons District in Sandy as assistant director of finances.
At that time, KSL conducted an in-depth investigation and obtained a copy of his Garfield County contract. KSL discovered that he had written the contract himself. It included provisions that allowed him to be paid his salary even if he quit or was fired before his contract expired.
It also allowed him to receive health benefits until he and wife turned 65 years old and his children each turned 26.
The Garfield County School District superintendent signed off on Baugh's contract but the school board hadn't seen it and didn't have a signed copy at the time KSL investigated it.
Still, investigators tell KSL the criminal charges are unrelated to that contract and instead deal with the checks Baugh wrote to himself and his wife.
The sheriff's office also confirms that it is very likely that others will face arrest and be charged because of the outcome of the audit, although it is not directly related to the allegations against Baugh.
------
Story compiled with contributions from Shara Park, Sam Penrod and The Associated Press.
×
Related stories
Most recent Utah stories