Estimated read time: 2-3 minutes
This archived news story is available only for your personal, non-commercial use. Information in the story may be outdated or superseded by additional information. Reading or replaying the story in its archived form does not constitute a republication of the story.
John Hollenhorst ReportingFrom the depths of Lake Powell comes the plane that nearly carried Olympic star Rulon Gardner and two other men to their deaths. Today we finally got a good look at it. Divers had to go deep to get the plane.
It was just over five weeks ago that Rulon Gardner was a passenger in a plane piloted by a friend. They flew too low, and the plane's wheels snagged on the water. The three wound up swimming for their lives and stranded overnight, after the plane sank out of sight.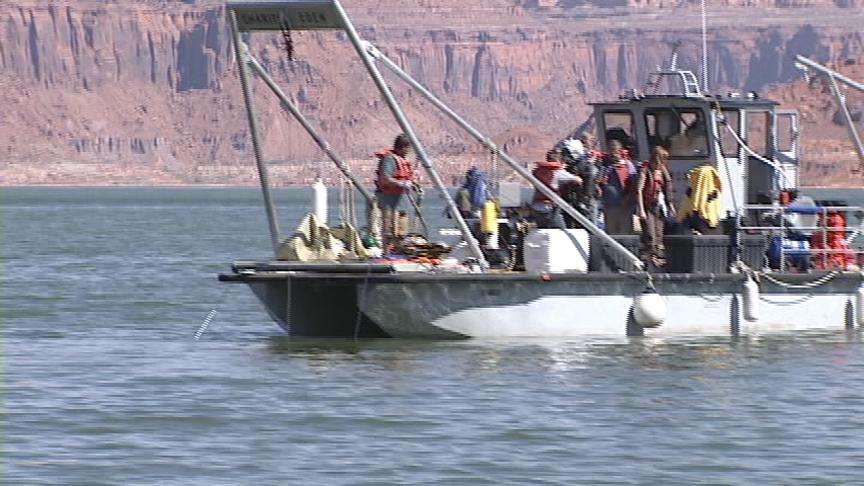 The recovery operation was on Good Hope Bay; perhaps it's a fitting name. Three men had only hope to go on when they swam away from their sinking plane.
Diver Alan Cody went deep three times, assisted by Wilf Blum.
Wilf Blum told KSL, "Well, the first thing we had to do was locate the plane because it was zero visibility."
They found it nose down, 104 feet below the surface.
Jim Cross, of Cross Marine Salvage, said, "The recovery was right on the borderline of being a serious deep dive. We had to do decompression dives."
There were concerns about leaking fuel and oil and an explosive parachute charge which never deployed.
"And once he found the plane we had to make a choice whether to disarm the parachute or not. And we decided to go ahead and not disarm it," Blum said.
There were no big surprises as they winched up the single-engine Cirrus by its tail. Underwriters plan to examine the wreckage to see if there's any value left, but in all likelihood, it will be cut up for scrap.
"The undercarriage is completely gone. It's actually, I'm amazed, it must be an incredible plane. The other ones we've pulled up have been in bits and pieces. This one is in pretty good shape," Blum said.
One major piece floated free, the engine cover of the ill-fated plane. Looking through the open doors of the cockpit, it was an eerie feeling to realize how close three men had come to drowning.
This was the 54th plane Jim Cross has recovered in waterways from all over the world. He towed it into shallow water where it was easier to work with.
"We're going to support it on pneumatic tubes and kind of build an inflatable barge underneath it. Then we'll be able to tow it," Cross said.
That's where we left them Tuesday afternoon. A Park Ranger told us if the insurance people hadn't done the job on their own, the Park Service would have asked them to do it.
×
Most recent Utah stories