Estimated read time: 3-4 minutes
This archived news story is available only for your personal, non-commercial use. Information in the story may be outdated or superseded by additional information. Reading or replaying the story in its archived form does not constitute a republication of the story.
SALT LAKE CITY -- When children find themselves in Salt Lake City's Shriners Hospital -- some with mobility issues and some in wheelchairs -- they find it cheering to see how a wheelchair doesn't have to slow a person down.
In this case, the "person" they find cheering is a dog.
Salt Lake Attorney April Hollingsworth rescued her trusty companion -- her dog Piggy -- a few years ago.
"I went to the shelter looking for my cat and had no intention of getting a new dog, and this dog smiled at me. She actually smiles," April said. "I'd never seen a dog smile before so I had to have her."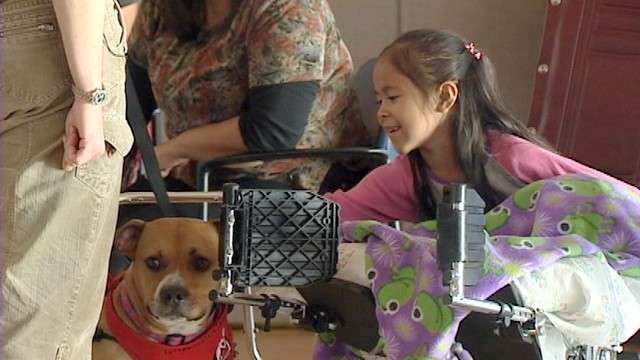 The dog melted her heart, so April took the pit bull-boxer mix home and named her Piggy.
But April's heart was broken three-and-a-half years ago when Piggy was hit by a car.
"There were cars stopped outside the house and she had been hit kind of all over. I don't know exactly how it happened, whoever hit her didn't stop," April said. "To see my vibrant dog who was always up to mischief and running around and so full of energy in that state was absolutely horrific."
The prognosis was grim. Piggy had numerous injuries, including her spine, which was nearly severed.
"It wasn't until I picked her up that I really understood that she was paralyzed," April said. "No one came out and said, 'You should put her down,' but that was the implied recommendation."
April says thank heavens Piggy was kept alive.
Though her hind legs are paralyzed, a special cart helps Piggy get around town. Her favorite stop: Shriners Hospital.
"She's amazingly gentle," said April. "You can give her treats and she takes them gently out of your hand, so she shot all the stereotypes I had of pit bulls and hopefully other people."
---
I have this great dog who spread happiness wherever she goes, so I feel it's as much my obligation as it is something that makes me really happy.
–Piggy's owner April Hollingsworth
---
For the past few years, Piggy has brought smiles to the children at Shriners. The now-6-year-old dog is a favorite guest.
"When they come and see a dog in a similar situation, they instantly attach to the dog and can empathize with her situation," said Andrea Mathers, who works at Shriners Hospital. "I think that is what makes her unique coming here to the hospital, so it is really something that these kids look forward to."
The patients agree. "Well, I kind of like it because she is in a wheelchair and I'm in a wheelchair, so she is kind of like a buddy right now," said patient Joshua Weatherston.
"People come up to me with tears in their eyes all the time," April said.
Piggy's long-term prognosis is unknown. She goes through weekly therapy in hopes to gain back some mobility in her hind legs. If not, April says, life is good -- thanks to Miss Piggy.
"I think if we're lucky we have something to give the world to make people happy," she said. "I feel some people can sing and that's their gift, and some people have money where they can start foundations and that's their gift. I have this great dog who spread happiness wherever she goes, so I feel it's as much my obligation as it is something that makes me really happy."
April and Piggy work through the Intermountain Therapy Animal program. April says she hopes to take Piggy to meet adults in similar situations.
E-mail: kaiken@ksl.com
×
Photos
Most recent Utah stories