Estimated read time: 2-3 minutes
This archived news story is available only for your personal, non-commercial use. Information in the story may be outdated or superseded by additional information. Reading or replaying the story in its archived form does not constitute a republication of the story.
RICHFIELD -- Hundreds of people gathered Wednesday to bid a final farewell to a Sevier County sheriff's sergeant killed in the line of duty.
The funeral for Sgt. Franco Aguilar was held Wednesday in Richfield, not far from where he died Thursday night while helping at a traffic accident along Interstate 70.
Motorcycle squads from several Utah police agencies arrived to the Sevier Valley Center in Richfield, as a tribute to Sgt. Franco Aguilar. Hundreds of other officers from across Utah also made the trip.
Even though just a handful of officers actually knew Aguilar, the officers say they were there to show their support to his family and the Sevier County Sheriff's office.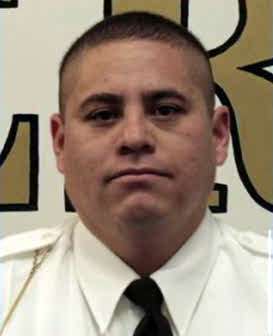 "I didn't know him personally, but we're all a brotherhood," said Sandy police Lt. Victor Quezada. "It's a sad situation, of course, but it is very respectful to come out and show your respect to an officer that has died in the line of duty."
Aguilar died Thursday night, just a day after his 36th birthday. He leaves behind a wife and five children. The family's pastor says they are finding strength through the outpouring of support for their husband and father.
"It is a time of mourning, but they realize he will be watching over them, protecting them, guiding over them," said Father James Blaine, pastor at St. Peter's Catholic Church.
Aguilar was well-respected in the law enforcement community. Throughout his career he served with the U.S. Marines, the Utah Highway Patrol, the Richfield Police Department and the Sevier County Sheriff's Office.
Aguilar is being remembered for always being friendly and helpful to the community, not just when he was on duty, but anytime he saw a chance to lend a hand.
"Franco was always helping people out, and one of the things we want to do is make sure we take care of the family. That's our biggest goal, because times right now are tough," said Sevier County sheriff's Detective Nathan Curtis.
Following the service, a large procession of law enforcement officers, family and friends drove to American Fork. Even though Aguilar lived in Sevier County for several years, his family has chosen for him to be buried in American Fork, where he grew up and where his parents still live.
During the graveside service, Sgt. Aguilar received full police and military honors for his years of service as a peace officer and his six years as a Marine.
Sevier County commissioners also proclaimed Wednesday, May 5, 2010, Sgt. Franco Aguilar day, in a final tribute to him.
-----
Story compiled with contributions from Sam Penrod and Shara Park.
×
Photos
Related links
Most recent Utah stories