Estimated read time: 4-5 minutes
This archived news story is available only for your personal, non-commercial use. Information in the story may be outdated or superseded by additional information. Reading or replaying the story in its archived form does not constitute a republication of the story.
KSL Team CoverageFormerly conjoined twin Maliyah Herrin and her mother, Erin, are recovering this morning following successful surgeries yesterday.
By 2:30 Tuesday afternoon, Maliyah had a new kidney. Like it's been for the Herrin twins since they were separated last August, this kidney transplant went better than expected.
Transplant surgeon Dr. John Sorensen said, "Maliyah is doing great. The kidney is working. It's actually working very well. It seemed to work almost immediately after the blood began to flow to it."
Father and husband Jake Herrin expressed his gratitude to the staff at Primary Children's Hospital, "We really want to thank all the doctors and nurses and staff. They performed miracle after miracle after miracle and started to wonder when our miracles are going to run out because they've done so many for us and we appreciate them so much. They do amazing work and this is an amazing hospital and we're so thankful to have this right in our backyard."
Mayilah was born fused at the torso to her sister, Kendra. Maliyah received the kidney to replace the one she lost when she was surgically separated from Kendra last year. Eight months after being separated from her conjoined twin, Maliyah underwent surgery to receive a kidney from her mother. Erin gave up one of her kidneys, which was harvested at about 11:40 a.m. and was then placed inside her 5-year-old daughter Maliyah.
Erin and Maliyah are resting and recovering. When Erin came out of the anesthetic following the harvesting of her kidney she asked Jake how it went and how Maliyah was doing. He told her she was fine, better than expected. That has again been the deja-vu story of this family for the last two years.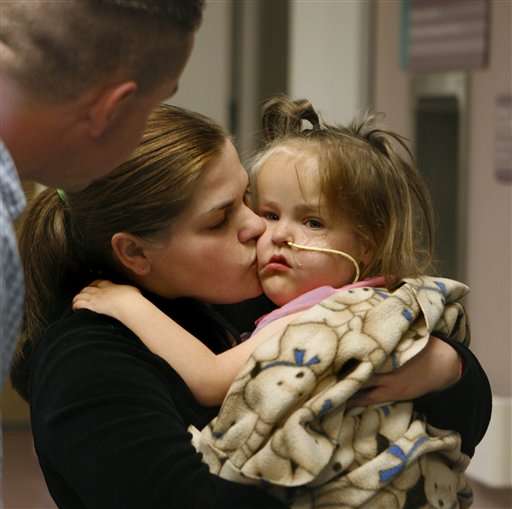 Though it was a tight fit in a small abdomen that had been rebuilt after the separation last August, Erin's adult-size kidney was hooked up and began functioning nicely.
Tuesday morning, before the surgery, Maliyah played with toys she was familiar with when she was separated from her sister last August. It was an emotional parting for Erin from her husband Jake and daughter Maliyah. At one point, Erin asked to look in the open doors to the adjoining room where surgeons were preparing Maliyah to receive her kidney.
Though the rest of the family was shedding tears before the surgery got underway, Maliyah was excited for this special gift. "'Today is the day you get your kidney,' and I mean she was so excited," said father, Jake Herrin. "She's always really upbeat, but last night and yesterday she was just bouncing off the walls and happy and it was just really funny. And so we knew she was excited even though she was nervous this morning."
The transplant in Maliyah required some reconstructive surgery and careful positioning of the kidney in a very small space. Dr. Rebecka Meyers said they were pleased to see how well Maliyah had healed over the past six months. There wasn't as much scar tissue as doctors had expected.
Dr. Rebecka Meyers explained, "In her mind, this operation makes her more like her sister. Her sister has a kidney. She lost her kidney when they were separated. Now she gets her kidney back, and she's very excited about the surgery."
Since the girls were separated, Maliyah has had thrice-weekly dialysis treatments in anticipation of the transplant. Doctors had predicted the blue-eyed blond would need about six months of recovery time before the transplant could occur.
"I think we've reached that point now," Dr. John Sorensen said Monday. "She's not going to improve medically beyond where she is now on dialysis, and she's not going to be any more prepared than she is now for this transplant."
Doctors will now be watching for Maliyah's body to begin producing urine, a sign the new kidney is working. They'll also be watching for any signs of bleeding, infection and organ rejection.
This surgery is expected to be the last big medical hurdle of Maliyah's childhood, her parents said. If all goes well, she's expected to be back riding bikes, playing Barbie, jumping on the family trampoline and going to preschool within weeks.
Maliyah could go home a week after surgery. Her mother could go home in a few days.
When the southern Cal teams walked out for Tuesday afternoon's press conference, everybody was smiling. Jake Herrin was grinning ear to ear and he looked very, very relieved. They've been very fortunate throughout all of the medical procedures this family has been through.
(The Associated Press contributed to this report.)
×
Related links
Most recent Utah stories