Estimated read time: 1-2 minutes
This archived news story is available only for your personal, non-commercial use. Information in the story may be outdated or superseded by additional information. Reading or replaying the story in its archived form does not constitute a republication of the story.
Nishi Gupta Reporting"It's been probably the most physical and emotional thing I've ever done, but definitely the most rewarding."
Like thousands of others, Julie Lambert answered the call for help in the days after hurricane Katrina. And after a week of exhausting work tonight she came home. You can see many emotional scenes at the airport, but tonight, Julie Lambert's was one that couldn't be ignored: we saw sadness, exhaustion, and relief.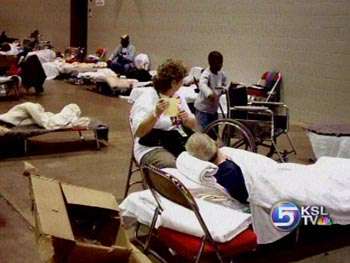 Her husband, John, anxiously waited her arrival, talking to her on the phone as she sat on the tarmac, when she got off the plane, and again when she was close to the escalator. He hadn't seen his wife for almost a week because she'd been at the Houston Astrodome helping those who survived Katrina.
After a long embrace with her husband, she reflected on feeling overwhelmed and some of the scenes she saw over and over.
Julie Lambert, Volunteered in Houston: "Every time you go to do something, there was then other things that were being asked of you at the same time. You had to keep track of what you were doing. It would be much easier for us to count how many hours we slept rather than how many hours we worked."
Julie Lambert, Volunteered in Houston: "Wall to wall cots, people who had their belongings stuffed into sacks that smelled like toxic waste, but they would not part with them."
Lambert is an EMT with Tooele County. She says she went there expecting to provide EMT services, but spent a lot of time reuniting families.
She went to Houston with a friend who also returned tonight. She says altogether it was a challenging, but very rewarding experience.
×
Most recent Utah stories