Estimated read time: 7-8 minutes
This archived news story is available only for your personal, non-commercial use. Information in the story may be outdated or superseded by additional information. Reading or replaying the story in its archived form does not constitute a republication of the story.
This is the first of an eight-part series on the recently released book "Driven: An Autobiography" about the life of Larry H. Miller written by Deseret News columnist Doug Robinson in collaboration with Miller. "Driven" is available at Deseret BookSALT LAKE CITY -- The reality of Larry H. Miller's death really didn't hit me until the day I e-mailed the manuscript of his life's story to the publisher last November.
I went for a walk, kicking at stacks of fall leaves on the ground as I went, feeling relief and satisfaction at finally completing the project. ... Forgetting momentarily, I felt an urge to call Larry immediately to share the moment, and then I remembered, of course. He was gone. Really gone. What we started together, we didn't finish together.
So much had transpired since we had sat in his dining room overlooking the Salt Lake Valley — days and weeks and months of interviews in hospital rooms, at his bedside, at the dinner table, in his office. We talked through blood transfusions and walking exercises in the hallway and over his wife's homemade lunches. With all the starts and stops caused by Miller's health troubles, culminating in his death, it had taken 18 months to finish the book.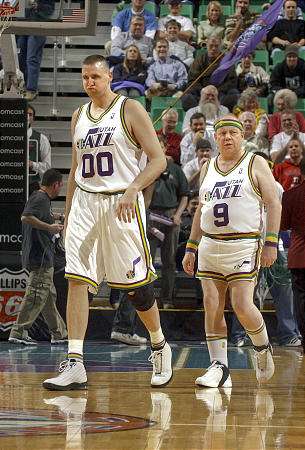 Six times he almost died during the six months we worked on the book; five times he was resuscitated. Larry came back from each setback wanting to work on the book until finally he couldn't come back. He wanted the book to be finished anyway. That was the last thing he told me on his deathbed.
Along with the Joseph Smith Papers and the planning of the establishment of the Larry H. and Gail Miller Family Foundation, he viewed the book as one of his most important projects during the last months of his life. He considered it a legacy for business associates, friends and especially family. (Even before the book was officially released, Larry's son Steve told me that he and his wife were reading the manuscript to their children each night, which surely would have pleased Larry.)
Little did we know that we were in a race against time when we began the project, or we would have begun it much sooner. It wasn't until that last month of Larry's life that either of us really realized he wasn't going to regain his health.
One night in February 2009, I received a call at home from Larry, whom I was scheduled to meet in the morning. "I have some bad news," he said, his voice breaking. "In the morning, they're going to amputate my legs." I felt a pang deep in my stomach. Throughout the many interruptions caused by various health problems, I always thought each time that he would be fine, that the latest medical procedure would do the trick. But now I was having my first doubts. After further discussion of his condition, Larry concluded by saying something that would have been humorous for its understatement if the occasion hadn't been so serious.
"I'll call you," he said, "but it won't be tomorrow."
That's how important the book was to him.
The book really has its genesis in a 6,500-word story I wrote about Miller for the Deseret News in 2001. I conducted three interviews in three different locations with Miller as we discussed, among other things, his rise from an uneducated, aimless youth to a billionaire philanthropist, car dealer and NBA owner; his driven, obsessive work ethic; and his shortcomings as a father and husband. We both enjoyed the conversations immensely and said so.
After the story was published, he told me he had been approached by a number of people who wanted to write a book about his life. He asked if I would be interested in writing that book. He wasn't ready to begin the project at the time — he was too busy living his life, he said, to produce a book about his life then — but someday he wanted to do it.
When we bumped into each other or chatted on the phone over the years, he would say, "I still want to do that book someday." But it wasn't until the summer of 2008, after he had been hospitalized for 59 days due to a heart attack and other serious health problems related to diabetes, that he got around to it. Shortly after he was released from the hospital, he called me at home and invited me to his house for a meeting. I guessed its purpose.
"We'd better do that book now," he said. "You never know."
Related:
So we began the project. Two or three times a week I drove to his house. We talked for hours at a time. When it was apparent that these long sessions were wearing him out, we vowed to limit them to 2-3 hours, but sometimes he couldn't stop himself and we went longer than was prudent. Once while I was interviewing him as he lay in bed in his upstairs bedroom, he fell asleep almost mid-sentence. Gail happened to be out shopping at the time, so, not wanting to leave him alone, I sat by his side doing other work until she returned.
As fate would have it, I would have a front-row seat for the last seven months of Miller's remarkable life. I have written about some of what transpired previously, but it bears repeating if only to be able to add one part of the story I didn't reveal.
After Larry called to tell me he was having his legs amputated, I began to worry when I didn't hear back from him for a couple of weeks. I called and left a message for Larry. I was out for a run the next morning, cell phone in hand, when Gail returned my call. I explained that I wanted to get back to work on the book, and she said, "Well, it doesn't look like you're going to get to finish the book." My heart stopped. I knew what that meant.
Gail told me that if I wanted to visit Larry I better come to see him soon. When I suggested the weekend (it was Thursday), she said, "No, you better come today if you want to see him." I sprinted the last three blocks to my house, showered hurriedly, put on a dress shirt and slacks and began driving north toward Miller's house at the other end of the valley.
Gail greeted me at the door with an embrace and showed me to the living room, where we sat for a few minutes while she explained the latest medical crisis. Then she led me upstairs to the master bedroom. Larry was lying on the bed with the covers pulled up to his chest, his head propped up by a couple of pillows. He was staring at the ceiling through half-lidded eyes. His arms and hands were bruised purple. It had been a long, weary fight.
"Doug is here," Gail announced.
I approached the bed. Larry was weak and spoke little, and then only in a whisper. I held his cold arm in my hand — his hands were too damaged to hold — and leaned over his face so that I could look down into his blue eyes.
"You never know," he whispered.
He remembered. Here he was, exhausted, medicated and dying, and he was being ironic. He was still sharp enough to recall, spontaneously, the words he had spoken to me seven months earlier.
I leaned close to his ear and expressed my admiration and love for him. "You're a keeper," he whispered, generously.
I expressed my regret that we hadn't finished the book, and then he said the last words he would speak to me. "I don't want to drop it." He said it again. "I don't want to drop it."
I turned to Gail. "He means the book," she said, confirming what I thought.
I had written nearly half of the book and still had notes from our interviews that would provide material for many more chapters. Seeing that Larry was weary and fighting sleep, I took my leave, casting one last look back at the man — a legendary figure in Utah history — before I reached the door.
I knew what I had to do.
He died the next day, Feb. 20, 2009. He was 64.
E-mail: drob@desnews.com
×
Related links
Related stories
Most recent Utah stories