Estimated read time: 1-2 minutes
This archived news story is available only for your personal, non-commercial use. Information in the story may be outdated or superseded by additional information. Reading or replaying the story in its archived form does not constitute a republication of the story.
Nishi Gupta ReportingWe know Jon Huntsman Junior is the state Governor, but he also fills another role as commander in chief of the Utah National Guard. Today Huntsman participated in his first pass and review of the guard. It used to be a military routine of inspecting formations and weapons. Now it's become a ceremonial tradition, one that both the Governor and guard enjoyed.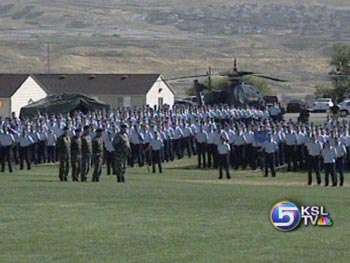 An estimated four thousand soldiers lined up, saluted, and smiled as their Governor paid his respect for their service. Huntsman says they play a crucial role, calling them "the front line of defense." He cited Iraq, Afghanistan, the recent Washington County floods and Hurricane Katrina as examples.
Several soldiers received heroism awards from their chief, even for local service.
Sgt. Josh Blackmer, Utah National Guard: "For assisting in an overturned vehicle in Spanish Fork Canyon. Before it blew up, I was able to help the driver and the passenger out of the vehicle."
Gov. Jon Huntsan, Jr.: "It was tough to keep the tears back, quite frankly. As you pin the award on, you salute them shake their hands."
A spokesman says about one-thousand Utah guard soldiers are serving oversees and assisting with Katrina efforts. The pass and review ceremony is an annual event and also required by law.
×
Most recent Utah stories