Estimated read time: 4-5 minutes
This archived news story is available only for your personal, non-commercial use. Information in the story may be outdated or superseded by additional information. Reading or replaying the story in its archived form does not constitute a republication of the story.
SALT LAKE COUNTY -- Democratic gubernatorial hopeful Peter Corroon tapped a moderate GOP state lawmaker as his running mate on Monday, hoping to send a message to this heavily Republican state that he's not a polarizing figure and can work across party lines.
The Salt Lake County mayor chose Rep. Sheryl Allen, a Bountiful Republican, to join him on the Democratic ticket this fall in a special election. Corroon is hoping to unseat GOP Gov. Gary Herbert.
When Corroon formally announced his candidacy in January, he told KSL, "I don't think this race is about being a Democrat or a Republican. I think it's about leading the state of Utah into the future."
Herbert took office in August after Jon Huntsman resigned to become the U.S. ambassador to China. Huntsman was the most popular governor in state history and both Herbert and Corroon are trying to assert themselves as the rightful heir to his legacy.
"This state has a fantastic tradition of strong, executive leadership that has been very responsible and moderate, and we want to continue that trend," Allen said, while invoking Huntsman's name and other moderate governors.
Herbert has dismissed talk that Corroon has more in common with Huntsman than he does, noting he was Huntsman's running mate.
Related:
Corroon made the announcement first on KSL Newsradio's Doug Wright Show. He said the decision was made last week.
Allen known for moderate politics
Allen has been a legislator since 1994 and is widely regarded as a moderate Republican. More importantly, she is a teacher and has been a strong advocate for public education. That could bring much-needed support from the education community.
She also played a central role in shaping the debate over legislative ethics reform in the past two years, which the Corroon campaign believes Herbert is vulnerable on.
In 2009, Allen sponsored legislation that would have created an independent ethics commission and a code of conduct for lawmakers. The bill never got a hearing.
In March, she said she wouldn't seek re-election because it was time to try something new.
---
That's what we're going to do in the next six months -- talk about Utah, talk about cooperation, talk about working together.
–- Rep. Sheryl Allen
---
Allen is the special projects director for the Davis School District and said Monday she would be resigning at the end of the month to focus on the campaign full time.
Both Corroon and Allen say they're the ones paying attention to mainstream Utah. Allen isn't concerned about alienating the conservative 'Tea Party' portion of her party.
The Corroon campaign's strategy seems to be tapping into Utahns who don't feel represented by the extremes of either party right now.
Allen said, "The voices have been a little shrill lately. We want to give a different tone to the campaign. So you're going to hear 'bipartisanship' and 'cooperation' a lot because that's how we feel about it."
Split ticket more than a gimmick
It's a rare bi-partisan effort in Utah politics -- a split ticket for the state's top job. But Corroon's campaign says it's more than a gimmick: They see it as common sense.
"My choice was made regardless of political parties," Corroon said. "I don't think a Democrat needs a Republican on the ticket to win."
Allen said Monday, "Cooperation is more important than party politics. Utah needs to come first. I hope that that becomes the trend, frankly, across the nation."
Corroon indicated that their priorities in office will include "getting back to basics" in order to improve education and the economy.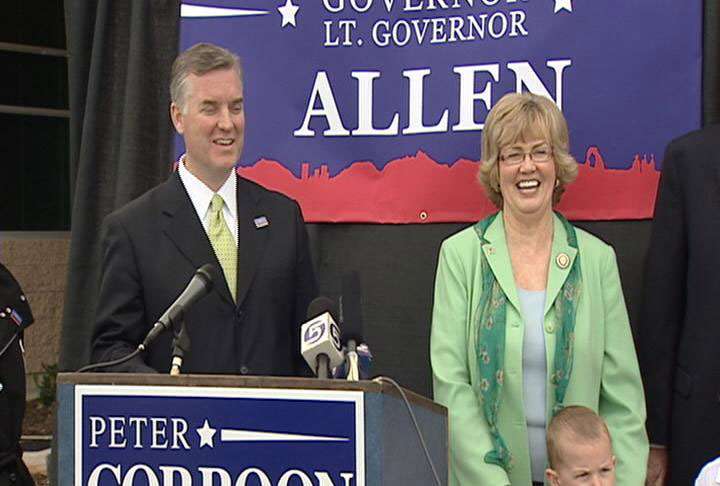 "We're seeing parties are leaving citizens behind," Corroon said. "They're leaving the moderate representatives behind. That's why we believe in bipartisan government. We're going to work hand in hand."
Corroon says he and Allen are moderates, and that's what Utahns want. The question is, are they the candidates to appeal to most Utahns?
Allen has a reputation as a moderate -- some say liberal -- Republican. The Hinckley Institute's Kirk Jowers says that makes her appeal "iffy."
"The reality is somewhat difficult because, what does it do to your Democratic supporters, and does it really bring over any moderate and independent Republicans?" Jowers said.
Utah Democrats think the pairing is a winner, and they're not worried it sends a message that Democrats need a Republican to win.
Wayne Holland with the Utah Democratic Party said, "In a specific time when the Republican Party seems to be held hostage by the extreme right, this puts the Democratic candidate and his running mate right in the mainstream of Utah voters."
An April 30 KSL/Deseret News poll showed Herbert leading Corroon 45 to 25 percent. Corroon's campaign saw opportunity with undecided voters. The campaign also claimed Herbert's support was low for an incumbent.
------
Story compiled with information from Richard Piatt and The Associated Press.
×
Related links
Related stories