Estimated read time: 2-3 minutes
This archived news story is available only for your personal, non-commercial use. Information in the story may be outdated or superseded by additional information. Reading or replaying the story in its archived form does not constitute a republication of the story.
John Hollenhorst Reporting You wouldn't ordinarily expect to get a close-up experience with nature right in the middle of one of the state's fastest growing places. But you can, in a chunk of nature that's being protected from development alongside the freeway just outside of Park City.
It's not exactly like the famous swallows returning to Capistrano by the thousands, but the return of just a couple of pairs of sandhill cranes is an annual treat for a lot of people at Kimball Junction. They can watch the birds from their back decks.
Park City resident Camille Guevara shares her enthusiasm about the cranes, "They make this gorgeous sound. It's like a 'oooooo, ooooooooooo, brrrrrrrrrrr!' " If the birds look a bit prehistoric, it's because they are.
Dating back 6,000,000 years, sandhill cranes are the oldest living bird species. In modern times, they were once listed as a threatened species because of loss of habitat. An expert photographer who lives nearby, Mike Flaherty, took these photos. But with the birds so close, almost any neighbor can get good pictures.
Neighbor Chris Gevara says, "People that we send them to, they go 'What in the world are those huge birds?' So it's pretty cool because not a lot of people see them. But we've seen them as close as our back deck here."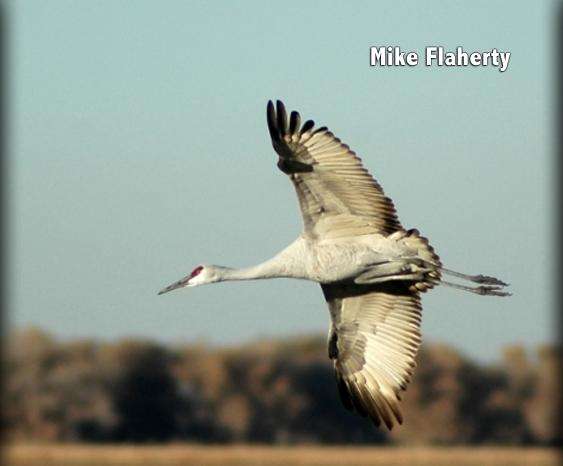 Sandhill cranes are making a comeback in the west. Surprisingly, they seem to love this area on the edge of Park City. Erin Spear of the Swaner Nature Preserve says, "They don't seem to be disturbed at all by humans. And this is a bike and hiking trail. So people are going past this fence constantly all day long."
The Swaner Nature Preserve is an island of nondevelopment. It's surrounded by exploding numbers of houses, condos and businesses. Erin Spear says, "It has a lot of important wetland habitat, and they can forage for amphibians, or little fish and insects and roots."
The Swaner family started the preserve by donating 190 acres in 1993. Over the years it's grown to 1,200 acres through other donations. There's an ongoing effort to return it to a more natural condition.
Nell Larson of the Swaner Nature Preserve says, "This is old agricultural land. And it used to be wetlands before it was drained. Now we're working to restore it more or less to what it was before it was used."
The preserve is currently raising funds to build a nature center. A long boardwalk into the wetlands will give visitors the kind of close-up view neighbors have. They say nature is a big part of why they live here. "Just last week we were watching foxes," says Chris Guevara.
If you want to know more about the Swaner Nature Preserve, and the Nature Center project, you can visit the link on the right.
×
Photos
Related links
Most recent Utah stories