Estimated read time: 2-3 minutes
This archived news story is available only for your personal, non-commercial use. Information in the story may be outdated or superseded by additional information. Reading or replaying the story in its archived form does not constitute a republication of the story.
ROY -- Dave and Lois Rogers love to do things together. A couple of years ago when their daughter asked them to help in a service project to make quilts for young patients at Primary Children's Medical Center, they committed whole-heartedly.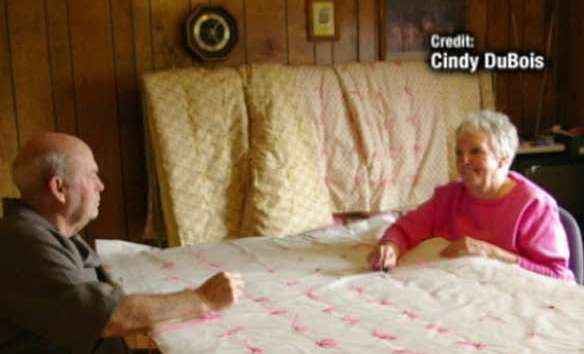 The Delta Air Lines charity called "A Quilt For Every Bed" aims to provide a quilt for every child at Primary Children's. The idea is to help them feel loved and more at home while they are in the hospital. Hundreds of quilts have come from Dave and Lois.
Cindy Dubois, who works with the project, nominated them for a KSL High 5.
"This year they have made over 400 quilts," she said. "They make eight quilts a day. Look at the quilts we have here today. We've got over 1,500 quilts and almost a third of those are from Dave and Lois."
Their daughter, Amy Putnam, said, "I wasn't surprised because whatever mom and dad do, they do in abundance. They are just gung ho."
The quilting is truly a team effort. Dave is in charge of the measurements. We're told he can rattle off the measurements of any size quilt.
Lois is in charge of cutting and sewing. Together they can tie a quilt in 15 minutes flat.
---
It can make a big difference, just one tiny, tiny little stitch at a time.
–- Lois Rogers
---
Lois said, "We just truly enjoy this. It's good for us and it's just a fun thing to do."
Dave added, "I love it. It's something we can do together, and that's what we've done for 59 years."
Each quilt is made with love and care, something the Rogers hope each child wrapped in one of their quilts can literally feel.
Cindy Dubois said, "These affect children all over the world. Thanks to these dear people, they are affecting many, many little lives."
"I hope they receive the love and appreciation from those who built the quilts," Dave said. "Anybody that's got the time, you'll definitely bring something away from doing them."
Dave told us making eight quilts a day is time consuming, but it's not bad in the winter since he and his wife can't work in the yard.
The couple loves to garden, and they were thrilled to receive a Suncast raised garden from IFA in conjunction with the High 5.
If you know someone who deserves a High 5, click here.
E-mail:bwalker@ksl.com
×
Related links