Estimated read time: 3-4 minutes
This archived news story is available only for your personal, non-commercial use. Information in the story may be outdated or superseded by additional information. Reading or replaying the story in its archived form does not constitute a republication of the story.
(KSL News Services) - CAMP WILLIAMS, UTAH -- A file obtained by KSL Newsradio reveals extensive criminal histories with some of the Hurricane Katrina evacuees flown to Utah.
Background checks run by Utah law enforcement reveal seven murders, six sexual crimes, numerous armed robberies, a few batteries of police officers, and one kidnapping. In all, the file, not intended to be made public, lists 40 evacuees and their felony convictions. The list was compiled by law enforcement working with Utah's Joint Terrorism Task Force.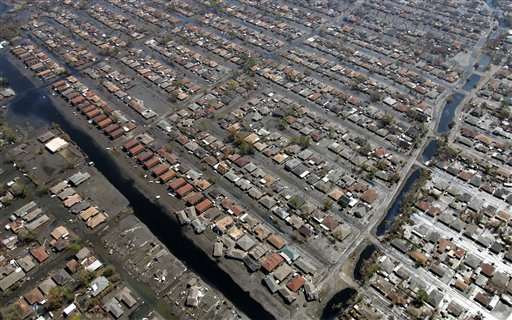 "We have identified some folks through our screening process. We're watching them," said Utah Highway Patrol Captain Robert Anderson who is in charge of security at Camp Williams, where the evacuees are staying.
A Utah Department of Public Safety spokesman objected to broadcasts concerning the criminal backgrounds, insisting all of the convicted felons had already served their jail and prison sentences and moved on in their lives. But, the file obtained by KSL Newsradio shows law enforcement were concerned enough about the past crimes to assemble a spreadsheet with names and felony convictions next to room and bed number assignments at the evacuees' temporary home at Camp Williams.
One officer at the base responded to questions about the background checks by stating that those with the most violent criminal pasts had left Utah when transportation options became available in recent days. Conversations with several law enforcement officials revealed that while they were publicly saying the criminal backgrounds were not news worthy, they were quietly paying special attention to and tracking those evacuees with previous felony convictions.
The spreadsheet was discussed at a meeting earlier this week of Utah's Joint Terrorism Task Force, according to a source who was at the meeting. Information about the evacuees' criminal records was distributed to several law enforcement agencies.
Thursday, Captain Anderson insisted the background checks were routine and that police have had no problems with any of the displaced Louisiana residents.
"We've not arrested one person since this all started. There hasn't been one physical assault that we have investigated. It's been absolutely great for law enforcement. It's been quiet. That's great," said Anderson.
In response to KSL Newsradio's initial reports on the evacuee background checks, the Utah Joint Information Center overseeing Camp Williams released a statement to all media. The statement defended the background checks and sought to reassure Utahns about conditions on the military installation.
"These routine background checks were conducted to ensure the safety of each evacuee, members of the surrounding community, volunteers, and law enforcement personnel," the statement said.
Utah law enforcement were extremely concerned about the leak of the criminal history report to KSL Newsradio. "Law enforcement cannot discuss criminal histories. Misuse of criminal history information is a class B misdemeanor under Utah law," the statement from the Joint Information Center said.
Utah Public Safety Commissioner Robert Flowers responded to the report by saying, "Law enforcement officers have worked diligently to provide proper security since the arrival of Hurricane Katrina guests in Utah. I have the highest confidence in the safety and security of our guests, volunteers, and surrounding communities." The comments were made in a prepared written statement.
A Department of Public Safety spokesman made clear the vast majority of evacuees deserve sympathy not examination. He said the displaced residents are victims of a terrible disaster and Utahns have responded with overwhelming care and concern for them.
(Copyright 2005 by KSL Newsradio 1160.)
×
Most recent Utah stories