Estimated read time: 2-3 minutes
This archived news story is available only for your personal, non-commercial use. Information in the story may be outdated or superseded by additional information. Reading or replaying the story in its archived form does not constitute a republication of the story.
SOUTH SALT LAKE -- Thieves smashed windows at a handful of South Salt Lake businesses near 3500 South and Main Street early Tuesday morning.
The thieves took off with some cash but left behind things like computers. Owners say the damage cost a lot more than what the thieves got away with.
True Colors Salon canceled appointments Tuesday. Thieves broke into the salon by smashing their front window. Business owner Andrea Stock and an employee spent the day cleaning up shattered glass.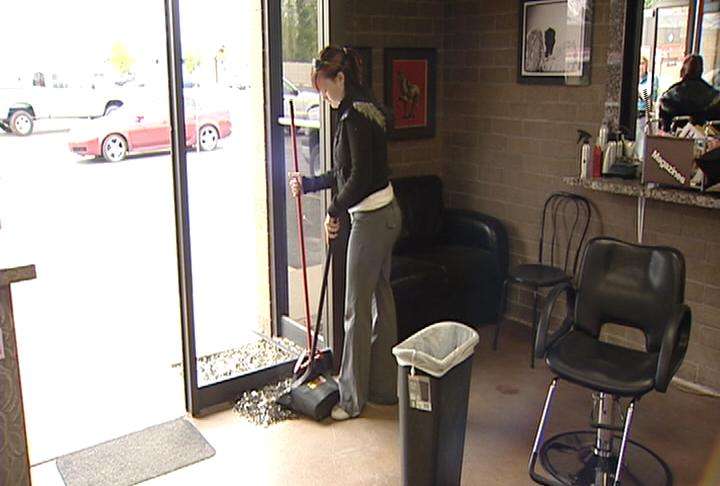 "It's a shock and a jab to the heart," Stock said.
The thieves passed on hair products and styling tools and got away with just a bit of cash.
"All of this for $6," she said. "Six bucks is all they got, it's sad."
Gary Keller of the South Salt Lake Police Department said, "It appears that it was things they could put in their pockets and get away quickly with."
Meowser Pet Salon across the street also took a hit. The thieves broke through a window to get inside and went straight for the cash box -- overlooking the tip jar.
"They didn't touch anything. They didn't even mess up paperwork," said owner Angela Murdock. She says the box contained a couple hundred dollars and credit card receipts.
But that didn't slow business.
"Everybody's kept their appointment and are being very understanding and letting us go a little slower today, so it's been good," Murdock said.
Wycoff Travel is adding up their tab. Thieves cost the business thousands in damages more than anything else.
"Broke in, broke a door down, pried open a safe," Dave Anderson said of the damage. "As near as I can tell, they didn't get anything."
Anderson say he's grateful the thieves didn't take much, but the repairs will be costly for such a cheap break-in.
"I feel unfortunate now that I have to cough up $1,000 to fix windows," he said.
Store owners say they're working on getting everything repaired.
One business actually installed a security system Tuesday afternoon to help protect their store in the future.
E-Mail: aforester@ksl.com
×
Most recent Utah stories